This Husband's Prank To Scare His Wife Is Over-The-Top — And Hilarious
by Cassandra Stone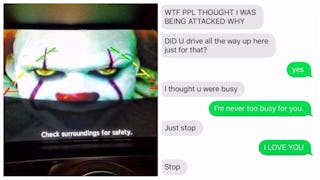 Image via Facebook/Bobby Wesson
This husband's prank is the definition of extra
As any parent in a long-term relationship or marriage will tell you, it's the laughs that keep us sane. In one man's marriage, it's toeing the line of insane that brings on the laughs. Or something. Either way, this guy takes pranking his wife to a level so dedicated it can only be described as extra AF.
Bobby Wesson, husband and father and prank extraordinaire, recently brainstormed one hell of a creative scare session for his wife, Rayena that involves her car and one crazy cast of characters.
"My wife's car has this neat little backup camera that shows what is behind you when you put it in reverse – and I had some tape and some pictures," Wesson writes. "Always check your surroundings for safety."
Yeah, if that showed up in my surroundings I'd probably have to pull right back in the driveway and change my underwear. Wesson did the first prank while his wife, who is a trauma nurse, was at work. So probably not the way you wanna cap off your stressful, chaotic day. She immediately confronted the culprit.
But it didn't end there. Wesson spent the better part of a month on this particular practical joke — giving his poor wife multiple high-magnitude scares when she least expected it.
Yeah, we'll take a hard pass on Pennywise.
So how exactly did this prank go down? The story behind it is almost as entertaining as the result.
"Well I got the idea when I left a toy dinosaur on the bumper I saw it all GIANT in the camera when I started to back up," Wesson tells Scary Mommy. "We had just seen IT and Rayena was super scared of clowns and such for a few days so I printed out a pic of the new Pennywise and thought I'd just stick it back there before she left for work."
Wesson says he actually had to build a little picture holder using a Popsicle stick and tape to ensure proper prank photo rigging.
If you're thinking "Wow, what lengths to go to for a prank" you're not the only one. But this isn't the first time he's gone viral for giving his wife a near-heart attack — he once got her to believe he and their toddler son shaved their heads before a family portrait session.
Oooh, burn. Who among us can't relate to our husbands having time for literally everything but the one thing we ask of them?
Rayena obviously caught on to her husband's scheme and began checking her rear bumper for pictures. After the first few frightening faces that scared her half to death, the pranks took a hilarious turn.
Does that mug look familiar? It should, because it's everyone's favorite Bigfoot buddy from Harry and the Hendersons.
LOL. These two are seriously #goals, even if we want to smack Rayena's husband with a rock on her behalf. Wesson's prank arsenal knows no bounds.
After awhile, Rayena was having none of it. "She found a couple of pictures and broke my popsicle sticks so I had to get inventive," Wesson says. Which was when he spent his time not building his wife's requested china cabinet but going the extra prank mile instead.
"I drove up to her work and around the parking deck forever until I found her car. That was the best one. She wasn't expecting to see it at work."
Personally, I beg to differ — because this one might actually be the best one. I'm still snorting over it.
YUP, that's Bill Clinton. Saxophone-serenading, cigar-smoking, Mr. Hillary Rodham Clinton. And it's great.
HAHAHAHA. Prank perfection.
Now that Rayena has become "hyper vigilant" about checking her car before even getting inside, Wesson thinks it might be time for a break. "It's been a few weeks now and she still walks all the way around he car before she gets in to go anywhere."
We can't wait to see what he comes up with next.
This article was originally published on