My Daughters Told Me Boys Were Looking Under Their Skirts On The Playground
by Nikkya Hargrove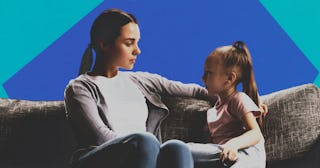 Scary Mommy and fizkes/Getty
You need to teach your kid about personal space, about respecting the body of another — and also, not looking up the dresses of others.
My six-year-old twin daughters are both in first grade. They love, love wearing dresses, so much so that I need to pull out every trick I've got to convince them that pants are also viable options. So, more often than not, you'll see them in dresses. But there's a hurdle we must cross every morning before school: which shorts they should wear under their dress. I remind them how hot they'll be with both shorts and a dress on. I remind them that they will be uncomfortable. And they remind me, "But mommy, during recess, the boys look at our undies."
This was news to me.
Until one morning, my daughter lay on the floor crying because I wouldn't let her put shorts on under her dress since it would be 85 degrees on that particular day.
"Aviah, why would you want to sit in class, without air conditioning, with a dress and shorts on? Why?" And that's when she tells me, "Mommy, the boys look up our skirts when we play on the playground. When we do cartwheels and our dresses come down, they also say 'I can see your underwear!'"
I took a breath to refrain from saying something unkind. Instead, what I said was "Which shorts do you want to put on?" I needed my daughters to feel protected and safe, on the playground and in school in general. With these particular first-grade boys, neither of my daughters felt safe while at recess.
California-based sex education expert and consultant Julia Feldman, founder of Giving the Talk, shares, "As our children grow older and become increasingly independent, it can be easy to forget the extent to which we are responsible for teaching them basic skills, especially when it comes to social dynamics." Kids defer to what they see, she points out — and, she adds, "The reality is that our society provides ample opportunities for kids to see and mimic inexcusable behavior daily."
The notion of public versus private and bodily autonomy are pretty foreign concepts to kids, says Feldman, especially the younger they are. "It's likely that your kids believe that it's OK for adults to have unbridled access to their bodies and that their notion of boundaries might be pretty blurry," she states. "As such, it's on us as parents to provide that explicit instruction (aligned with your family's values) that they're not getting any place else."
Kids are listening to us, even when we don't think they are. It's important to be honest, and compassionate with yourself about your own body issues and understanding what it means to have a healthy relationship with your own body. "The more comfortable you are in your own body, the more comfortable you'll be communicating about bodies and encouraging your kids to communicate about their bodies and their boundaries," Feldman points out. "So much of parenting is modeling behavior. We can healthy behavior for kids and we can model problematic behavior. When we don't communicate our own boundaries and when we have discomfort talking about our bodies, our kids will mimic that behavior." Model the behavior for your sons (and daughters) that will help them through the situations they will face in life, and on the playground.
Where do you begin?
Julia has some wonderful books and words to help you get started. She suggests checking out books written by Jayneen Sanders, such as: "My Body! What I Say Goes!"and "No Means No!" And if you're grappling with the "right" words to say to empower your youngster, Feldman offers a few phrases that are clear and concise. "Simple words or phrases cannot be underestimated," she advises. Practice communicating about boundaries with your kids at home using statements like:
Stop
Please don't touch me
I need some space
Leave me alone
My body belongs to me
That makes me uncomfortable
Please respect my privacy
Encourage your kids to be direct and clear about what's bothering them and what they need from other people. Be your kid's best teacher, number one supporter, and empower them every step of the way to stand up for themselves and take up space. I know I will continue to arm my daughters with words and resources to keep them safe, always. This recent incident only affirmed that I must be more diligent than ever in my advocacy and support of them.
It's necessary to teach your kids about what it means to be safe when they are out in the world — especially how to set clear boundaries. It's also important to teach our kids how to respect the bodies, space, and privacy of others. The sooner we can equip them with this knowledge, and address their questions honestly, the better off they'll be.
This article was originally published on