Body-Cam Video Shows 6-Year-Old Sobbing As School Resource Officer Ties Her Hands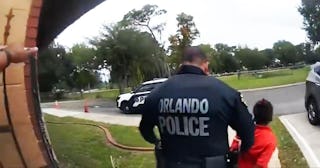 Orlando Police Dept
Body-cam footage shows school resource officer using zip-ties on a six-year-old girl, while she pleads for her life
Back in September 2019, we reported on the school resource officer who arrested a six-year-old girl for throwing a tantrum. Officer Dennis Turner who works as a school resource officer at Lucious and Emma Nixon Academy, a charter school in Orlando, Florida was fired after arresting 6-year-old Kaia Rolle, handcuffing her, and putting her in the back of a police car. Now, body-cam footage from that moment has surfaced, and it's horrifying.
The Orlando Sentinel obtained the body-cam footage and reports that Officer Turner was called in when Kaia threw a tantrum and struck three school workers. However, in the video, Kaia is seen sitting peacefully in an office while an administrator reads to her when Turner shows up and puts her in zip-ties, as her hands are too small for handcuffs.
"What are those for?" Kaia asked Turner and the transport officer Sergio Ramos, who slipped them on her wrists. "They're for you," Turner said, while Kaia cried out, "No, don't put handcuffs on! Help me, help me, please!"
With her hands restrained, these two men walked the young girl to the waiting squad car that would take her to a local Juvenile Assessment Center. "Please, give me a second chance," Kaia pleaded through sobs.
When Turner returned to the school to process the report, one employee is seen asking him if the restraints were "necessary," and he insisted they were. He then proceeded to brag about arresting 6,000 people in his career and said that Kaia "has broken the record" for the youngest person he's ever arrested.
Turner was fired after the department concluded he violated arrest policy and prosecutors dropped the charge against Kaia the very next day. "I refuse to knowingly play any role in the school-to-prison pipeline at any age," state attorney Aramis D. Ayala said back in September.
As for Turner's firing, it was a little too late as it came to light that Turner had a history of violations ranging from unsafe driving to being accused of injuring his 7-year-old son. Records also show he was accused of sending threatening text messages to his ex-wife in 2009 and racial profiling. Additionally, Turner arrested a six-year-old boy at the same school earlier that day.
As for young Kaia, there is no way to know how this traumatic incident will affect her moving forward. When her grandmother Meralyn Kirkland saw the video she said, "I knew that what they did was wrong, but I never knew she was begging for help. I watched her break."
Kaia now goes to a private school that does not place police officers in its halls.