Blogger Shuts Down Tired Fatphobic Argument In Empowering IG Post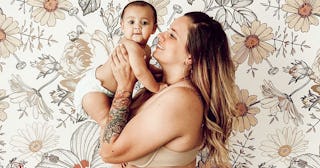 BETHANIE GARCIA/Getty
Body positive blogger Bethanie Garcia responds to fatphobic argument that overweight people "don't deserve praise"
There is a tired and exhausting narrative out there that if you are overweight, it must mean that you are "unhealthy." This fatphobic rhetoric is damaging, erroneous, and cruel and one body positive blogger has something to say about it.
Bethanie Garcia, a body-positive mom and blogger, shared a story on Instagram about a "Facebook friend" who went off on a cruel tangent about size and body positivity. Garcia stated that she stumbled upon the friend's ignorant Facebook post, which read: "If someone's obese and promoting body positivity but not trying to improve their overall health, they don't deserve praise. Instead praise those obese people actively trying to make a positive change in their health. Discipline = self love."⠀
Garcia broke down why this, sadly, very common argument against body positivity is so wrong.
"This is just a tiny, small example of the blatant fatphobia that is constantly circulating in our society," Garcia wrote on Instagram in response to the Facebook post. "Because [anyone] who is obese and not ACTIVELY trying to lose weight is disgusting and not worthy of praise for loving themselves…?"
Garcia also called out how ridiculous this argument is too, that it's impossible to ascertain or judge a person's total health just by looking at them.
"Let me guess, you know a fat person's diet and gym schedule just by looking at them, right?" Garcia continued. "If they're fat, they probably sit on the couch all day eating fast food. No way they're in the gym every single day and eating nutritious food, right?"
"It doesn't matter if they have health conditions, or if they're on meds that cause weight gain, or if they don't have access (money) to healthy food," Garcia continued. "Or — what if a fat person just doesn't give a fuck anymore and would rather live life loving themselves than live life for a number on the scale? How dare they think there's more to life than losing weight?!"
Garcia concluded her epic post by "rewriting" the troll's original post.
"If someone is obese and promoting body positivity, good for them," Garcia wrote. "It takes a lot of strength and discipline to love yourself in a world that constantly screams that beautiful/worthy/healthy is reserved only for certain sizes. All human beings and all body types are deserving of praise."⠀
Garcia told Scary Mommy that she's used to "trolls and comments from strangers," but said that this particular comment hurt more because "it's someone you know in real life saying such hurting and damaging things."
"This particular 'friend' has had outspoken beliefs like this for a long, and I no longer associate because it hurts my mental health," Garcia, who also blogs about motherhood and mental health, told us. She added that her husband tried to reason with the "friend" online, but unfortunately, they stood by their so-called beliefs.
Hopefully, voices like Garcia's will drown out the fatphobic negativity. Here's to women doing the daily work to live body-confident, transparent, and empowered lives.