Church Leader Follows Teen Girl Into Bathroom To Tell Her She's 'Too Fat' For Shorts
by Madison Vanderberg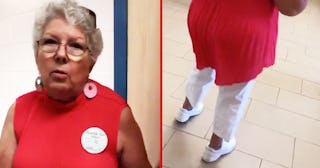 @roo_jenna/Twitter
A woman was body shamed for wearing shorts at church by a member of the church's leadership team
A young woman from Swansboro, North Carolina named Jenna shared a video of a member of her church's leadership team mercilessly body shaming her in the church's bathroom, and this sad tale of religious hypocrisy has gone viral.
In the video, a woman follows 19-year-old Jenna into the bathroom to tell her that she's "too fat" to wear shorts and that she couldn't sing with the church band in shorts again. Through hysterical tears, Jenna films the woman as she repeatedly body shames her. Even sadder still, when Jenna follows the woman into the lobby — nearly hyperventilating by this point — a man at the church is heard telling Jenna to "go back into the bathroom."
"This woman followed me into the bathroom and attacked me because I was wearing jean shorts," Jenna wrote in an accompanying note. "She told me 'fat girls don't wear shorts' and continued to call me fat. I want you to realize that THIS WAS AT CHURCH!!!"
https://twitter.com/jetpack/status/1145418373540585472
For context, here is the supposedly offending outfit, which literally looks fine to us.
https://twitter.com/jetpack/status/1145418422483935232
"I'm honestly shocked and upset that this happened at church, "Jenna added on Twitter. "I should feel accepted and loved and now I don't want to go back to that church."
Jenna added that the woman who body shamed her is a leader at the church and "speaks on the behalf of our church at different conferences," though Jenna's pastor confirmed to her that the woman has been removed from her leadership role.
In fact, the church released an official statement, condemning the woman's behavior.
https://twitter.com/jetpack/status/1146107537512685569
"It has come to our attention that great harm has been done in an incident that occurred this past Sunday where a faithful and very gifted young lady and worship leader was body shamed for her appearance," read the pastor's statement. "We are shocked and saddened by this act. The Church is supposed to be a place of safety, love, and acceptance…the worth, dignity, and safety of all who are reached by our ministry is our priority and will remain our sacred trust and duty."
Jenna added that she can't even imagine what would have happened if this woman had said these words to someone in a more fragile state and said that two years ago, this incident would have pushed her to suicidal thoughts.
https://twitter.com/jetpack/status/1146070578815631361https://twitter.com/jetpack/status/1146071165208866822
Since the tweets went viral, Jenna's story has been met with an outpouring of love from the Twitter community.
https://twitter.com/jetpack/status/1146072521583677441
https://twitter.com/jetpack/status/1145940430011301888
Hopefully Jenna can find a better, more welcoming church of kind-hearted peers.