This Town's '0.5K' Is The Perfect Road Race For People Who Hate Running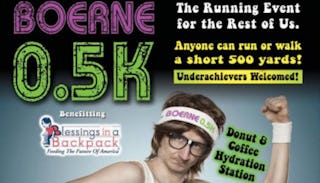 Image via Facebook/Jay Milton
Finally, there's a perfect race for all of us non-runners
Do you cringe a little when you scroll through your Facebook feed and see friends' pics from the Color Run or the Mud Run or the Spartan Race? Sure, it looks like kind of a good time. All those happy people with their fun outfits and their exercise endorphins. The snacks. The post-finish line beers. The medals. You find of wish you could be one of them, but also, fuck running.
Y'all, your race has finally arrived.
The people of Boerne, Texas understand the struggle of those of us who have a little road race FOMO, but also definitely ain't gonna run unless something (or someone) is chasing us. The town is holding its first ever 0.5K, and no, that's not a typo. Participants have to run (or walk, or crawl, or somersault, or whatever) about 500 yards. Do you walk your kids to the bus stop? You can probably handle this! Able to make a few quick laps around the grocery store when you're in a rush? Congrats, you qualify!
What makes the 0.5K race in Boerne even better is that race officials understand it takes motivation to undertake such an athletic feat. That's why they're handing out beers at the start and at the finish line, and there will be a table with coffee and donuts for those who need a little energy boost mid-race.
Participants will have to pay $25 to join the run, and that gets them a T-shirt and a glossy 0.5K sticker so everyone knows how dedicated they are to Fitness™. They'll also get medals and finish line photos, and then the rest of the proceeds go to a local charity called Blessings In a Backpack, which delivers backpacks of food to area kids and families in need.
If you want to go the ultra-charitable (and extra running-averse) route, you can make a VIP donation of double the entry fee. That gets you a shuttle ride from the start to the finish line, all the motivational beer and a bigger medal than the runners get, because you earned it, champ.
Unfortunately, this year's 0.5K, set for May 5, is already full. But that just means you have a full year to train yourself to be able to jog for roughly five minutes before next year's event. Ready, set, go!