There's A Jon Bon Jovi Cruise And Excuse Us While We Sprint On Board 
by Valerie Williams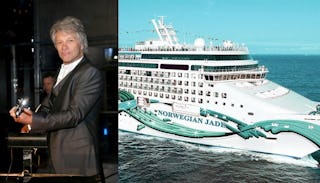 Image via Gary Miller/Getty Images/Norwegian
Norwegian Cruise Lines is hosting a Jon Bon Jovi cruise next month — and you can buy a ticket now
If you're a huge fan of iconic rockstar Jon Bon Jovi, you're ship's come in — literally. Norwegian Cruise Line's Norwegian Jade ship sets sail next month and you can be on board with the icon himself for a full four days as part of the Runaway to Paradise with Bon Jovi cruise.
No, we're not kidding. Yes, you should start packing immediately.
If having a drink or sharing dinner with Bon Jovi himself is a long-held dream of yours, it's within reach if you happen to snag a spot on the Norwegian Jade, which sets sail out of Miami April 12-16. It's almost sold out and tickets start at $713 per person, so if you're into this you best get on it. Because Bon Jovi will be there along with his son, Jesse Bongiovi, who is also his business partner for Hampton Water wine, which was, NBD, named Wine Spectator's best rosé of 2018. Naturally, the Jade will be stocked with plenty of the award-winning beverage, as it is on all of Norwegian's fleet.
Norwegian makes this trip sound like a friggin' dream come true. "Pack your sunglasses because this time we're headed for the high seas. Cruise the Caribbean with 2,200 fellow runaways for four days of non-stop action as we board the beautiful Norwegian Jade and make our way from Miami to the crystal-clear waters of Nassau, Bahamas to meet up with Jon. Dig your toes into white sand by day and watch JBJ take the stage by night on the ship! This fully-immersive vacation is sure to be one for the record books!" they said.
Oh HELL yes it is.
If you're not already packing your tankini and flip flops, allow this video featuring the rocker himself to get you pumped and reaching for your luggage:
The cruise isn't all Bon Jovi all the time, though. Sixthman, a production company specializing in performances at sea, is partnering with Norwegian to make all of your Bon Jovi dreams come true, but there's more. The 4-day cruise will also include a pop-up shop of the singer's own clothing line, Hart N Dagger, live band karaoke, speaking panels, Q&A sessions, and plenty of Hampton Water wine. In addition to Bon Jovi, the cruise performance lineup includes a number of others acts such as Collective Soul, Tonic, Beth Thornton, Tempt, DJ Dave, and Slippery When Wet among others.
And if you have to miss out on the Miami outing, you can try to catch the Mediterranean version sailing out of Barcelona August 26-30 and stopping over in Majorca. Let's be real here — if missing Bon Jovi on American soil but catching him in Europe happens for you, it's definitely not the worst thing in the world.
Get out your credit card, you're halfway therrrre. Sorry. I'll stop, promise. But seriously, if this is your thing, get tickets ASAP before they're gone.