Congresswoman Gets COVID After GOP Colleagues Refused To Wear Masks During Riot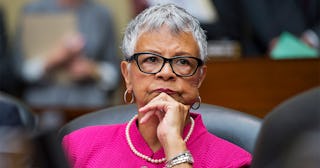 om Williams/CQ Roll Call/Getty
Video shows Republican members of Congress refusing to take a face mask while sheltering during the insurrection
New Jersey Congresswoman Bonnie Watson Coleman has tested positive for COVID-19 after sheltering in isolation with Republican colleagues who refused to wear masks during the insurrection. She believes this is how she was infected with the virus, according to The Daily Beast.
"I received a positive test for COVID-19, and am home resting at this time," she said in a statement. "While I am experiencing mild, cold-like symptoms, I remain in good spirits and will continue to work on behalf of my constituents."
Watson Coleman, 75, is a recent cancer survivor who underwent chemotherapy in 2018. She also received the first dose of the two-dose COVID vaccine offered to members of Congress. During the early stages of the violent insurrection where hundreds of Trump supporters seiged the Capitol building last week, Watson Coleman was rushed off the floor of the House of Representatives.
While sheltering in a room away from the riot, video footage captured shows that at least six Republican members of Congress refused to accept face masks. Even while hiding out to avoid being assaassinated during a literal coup, Republicans still won't acknowledge the severity of the COVID-19 pandemic.
One of the Republicans in the video is real-life QAnon fanatic Rep. Marjorie Taylor Greene. Rep. Lisa Blunt Rochester is seen trying to pass out masks in the video. She later tweeted her disappointment in her Republican colleagues for their stubborn refusal to adhere to pandemic safety precautions.
"I'm not trying to get political here," Oklahoma Rep. Markwayne Mullin, whose job is literally only political, told Rochester in the video. "I appreciate you."
"While I was disappointed in my colleagues who refused to wear a mask, I was encouraged by those who did. My goal, in the midst of what I feared was a super spreader event, was to make the room at least a little safer," she wrote.
The House attending physician has already warned members of Congress that "individuals may have been exposed to another occupant with coronavirus infection." All members who were in that room were urged to get rapid COVID-19 tests, especially following Watson Coleman's positive diagnosis.
Given the fact that every single insurrectionist who decided to descend on the Capitol building to commit treason and the possible assassination of Vice President Mike Pence chose to not wear masks, public health officials are warning that the riot overall is likely a superspreader event. It's bad news for Washington, D.C., and it's bad news for everyone who has had to travel with these criminals all week, and it's also bad news for their hometowns, where they can spread the virus even further.
Watson Coleman received a positive rapid antigen test result and is awaiting further PCR test results.
This article was originally published on