A Monthly Subscription Box For Book Lovers Finally Exists
by Christina Marfice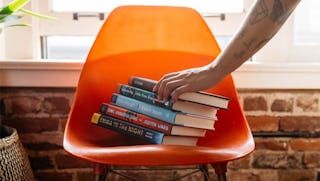 Image via Book of the Month
Bibliophiles unite! This online book club is making reading cool again
Reading never goes out of style. Studies show it's the best way to improve your empathy, keep your brain young and open to learning new things, reduce stress, and tons of other great benefits. But while reading is really good for you, it's also hard work. There are so many books in the world, how do you possibly choose which one to read? One great answer: Join a great book club.
Book of the Month is the subscription-based book club that voracious readers and newbies alike need in their lives. For just $15 a month, you get to choose one of five pre-selected new releases to be delivered to your door.
If one book a month isn't enough, you can add up to two more from the list for just $9.99 more apiece.
Considering the fact that hardcover new releases typically run closer to $30 (or more), this is a steal. And the company seems to have solid chops when it comes to choosing its selections. There's a mix of classics, like Catcher in the Rye, and modern works that you can choose before they blow up, like Tayari Jones' An American Marriage, which was a Book of the Month selection before it hit Oprah's Book Club. Most of the selections are fiction, but there is the occasional nonfiction offering if it's something really interesting, like Stephanie Land's memoir Maid, which is a pick this month.
https://www.instagram.com/p/BsLYHJFA-eF/
Oh, and Book of the Month specifically seeks out up-and-coming women writers to feature. Representation matters here, and a subscription is a great way to start adding some diversity to your bookshelf.
The process seems pretty simple. At the beginning of the month, you log into your account to check out the list of books that are on offer. You can see the cover art and the genre, and read a sentence-long synopsis or click through to a more detailed description before picking which book (or books!) you want to read that month. Once you make your selection, your book box arrives within about a week. If you're behind on the previous month's reads, or you just aren't feeling any of the selections on offer, you can always pause your subscription and skip a month.
https://www.instagram.com/p/Br5XS6iAp_Y/
Subscription services have been all the rage for a while. The things they tend to offer (makeup, socks, dog toys, etc.) are cool and all, but books are definitely more valuable than a new lippy. If reading more is something you want for yourself, Book of the Month can definitely help make it happen. Happy reading!
This article was originally published on