30 Books Every American Teenager Needs to Read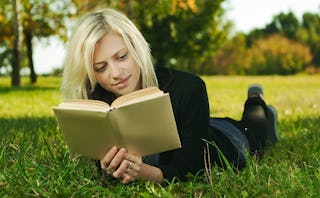 However, there are some big new issues teens have to deal with, and talking about them isn't always as easy as providing the Kotex Starter Kit. Depending on your own variables, some of these things may be old hat—or they may be scary new territory.
Many seasoned parents have learned that the most honest conversations often take place when you're in the car or otherwise traveling side by side, instead of speaking face to face. Teenagers, bless their little unjoined prefrontal cortices, can't always handle eye contact. It's not rudeness, it's brain development.
Handing your own teen one of these titles might function as one of these parallel conversations, or it might start one. And because not everyone thinks, talks or learns the same way, there are three books in each category, covering nonfiction, memoir and fiction.
Please note: I don't think that this list is definitive, exhaustive, or diverse enough—but I wanted to be able to recommend books that I had either read or read a lot about, rather than posting titles willy-nilly to the page in an effort to hit every category of author. I'd love to know about more books from people of color, other cultures, and perspectives. You can send suggestions to Bethanne@bethannepatrick.com. Thanks for reading!
Sexual orientation
1. Nonfiction: A Little Gay History: Desire and Diversity Across the World by R. B. Parkinson
Fascinating, and fact checked.
2. Memoir: Fun Home by Alison Bechdel
One of the best graphic memoirs ever.
3. Novel: Two Boys Kissing by David Levithan
Groundbreaking gay YA.
Gender identity
4. Nonfiction: Trans Bodies, Trans Selves: A Resource for the Transgender Community by Laura Erickson-Schroth (editor)
Indispensable—even for the cisgendered.
5. Memoir: Some Assembly Required: The Not-So-Secret Life of a Transgender Teen by Arin Andrews
Brave, funny, and real.
6. Novel: If You Could Be Mine by Sara Farizan
Politics and trans issues—with a light touch.
Chronic and terminal illness
7. Nonfiction: And the Band Played On: Politics, People, and the AIDS Epidemic by Randy Shilts
Required reading. Period.
8. Memoir: Needles: A Memory of Growing up with Diabetes by Andie Dominick
Not all pain comes from cancer.
9. Novel: My Sister's Keeper by Jodi Picoult
Read John Green—but this, too.
Body image
10. Nonfiction: The Body Project: An Intimate History of American Girls by Joan Jacobs Brumberg
Skin wasn't always in.
11. Memoir: Wasted: A Memoir of Anorexia and Bulimia by Marya Hornbacher
The not-pretty side of thin.
12. Novel: Dietland by Sarai Walker
Subversive, subtle, strong.
Mental illness
13. Nonfiction: A Beautiful Mind by Sylvia Nasar
Genius is fragile.
14. Memoir: Look Me in the Eye: My Life with Asperger's by John Elder Robison
Difference can be funny.
15. Novel: The Marriage Plot by Jeffrey Eugenides
A friend's depression trajectory.
Sexual and physical abuse
16. Nonfiction: The Courage to Heal: A Guide for Women Survivors of Sexual Abuse by Ellen Bass and Laura Davis
Older self help that still inspires.
17. Memoir: A Stolen Life by Jaycee Dugard
A woman in full.
18. Novel: A Little Life by Hanya Yanagihara
The battle's inside scars.
War
19. Nonfiction: The Good Soldiers by David Finkel
An embedded account of The Surge.
20. Memoir: I Am A Soldier Too: The Jessica Lynch Story by Rick Bragg
Perspective on a confusing case.
21. Novel: Billy Lynn's Long Halftime Walk by Ben Fountain
Victory isn't free.
Substance abuse and addiction
22. Nonfiction: The Addict: One Patient, One Doctor, One Year by Michael Stein
It's all individual.
23. Memoir: Beautiful Boy: A Father's Journey Through His Son's Meth Addiction by David Sheff AND Tweak: Growing Up on Methamphetamines by Nic Sheff
A pair, from father and son.
24. Novel: Rachel's Holiday by Marian Keyes
No, not chick lit. Tough talk.
Academic and social pressure
25. Nonfiction: The Accidental Billionaires: The Founding of Facebook by Ben Mezrich
Hell yes it's about peer pressure.
26. Memoir: Beamish Boy: A Memoir of Recovery and Awakening by Albert Flynn Desilver
Could be titled "Suggestible Boy."
27. Novel: It's Kind of a Funny Story by Ned Vizzini
Destined to be a classic.
Tragedies and natural disasters
28. Nonfiction: The Perfect Storm: A True Story of Men Against the Sea by Sebastian Junger
Notable for its many-faceted narration.
29. Memoir: Crazy for the Storm by Norman Ollestad
Surviving a parent's obsession.
30. Novel: Triangle by Katharine Weber
The Triangle Shirtwaist Factory fire, from a worker's view.
This article was originally published on