About That Wall, And The Organization Working To Break It Down
by Christine Organ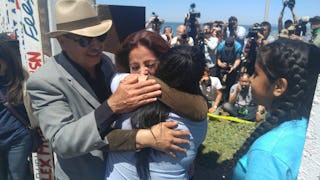 Border Angels
A couple years ago, my husband and I went to Italy for a nine-day, adults-only business trip/vacation. Our kids stayed stateside with extended family and basically had the time of their lives swimming in the lake, having sleepovers with their cousins, and eating candy every day.
After a little sightseeing, lots of wine, and plenty of adult conversation, I was eager to get back home to my kids. I wanted to kiss their cheeks and see their cute little faces, hug them tight, and listen to their singsongy (albeit sometimes whiny) voices ramble on about this and that.
Unfortunately, due to a series of travel debacles, instead of getting home to see our kids as planned, we ended up spending a night in a hotel near Newark Airport before finally getting home the next morning. When we found out we wouldn't see our kids that night, I sat in the airport and sobbed. I missed my home and my kids, and the thought of spending one more night away from them seemed unbearable.
Folks, this was one night. Can you imagine being separated from your child for months? Or years?
I, for one, cannot.
Yet sadly, millions of families are separated not just by a short flight, but by metal bars, walls, and border patrol agents with weapons. Because of legal technicalities, worst-case scenarios, or last-resort options, some families immigrate to the U.S. or stay in the country without proper documentation. In some cases, children are brought into the U.S. by their parents without legal documentation, and they don't return to their home country because, well, this is their home. Sometimes, one family member does not have legal documentation even though the rest of the family has legal residency.
If, or when, Immigration and Customs Enforcement (ICE) learns that an immigrant lacks documentation, that person may be deported. And yes, this means families are sometimes torn apart. Regardless of your views on immigration policies, these are heartbreaking stories. You can save your "law and order" should-have reproaches because these are families we're talking about here, people. This is about compassion.
A baby sees her father at Friendship Park
Thanks to the work of Border Angels, a nonprofit organization that advocates for human rights, once a year the emergency door in the wall (yes, that kind of wall) separating San Diego, California, from Tijuana, Mexico, is opened so that families can hug, kiss, talk, and see each other for a few short minutes.
Border Angels hosts several events at Friendship Park, located on the border between San Diego and Tijuana, including Children's Day. Traditionally, the event involved volunteers bringing toys and cupcakes for children separated from a family member due to immigration hurdles, but starting in 2013, the organization convinced the border patrol to open the door in the wall on Children's Day so families could physically be together, if only for a short period of time.
Since 2013, the Children's Day wall opening has been held at Friendship Park five times. According to Enrique Morones, executive director and founder of Border Angels, they have plans to host similar events at the Texas and Arizona borders as well.
Border Angels hopes their work sends the message that "love knows no borders," while also aiming to expose the harmful side of immigration laws and convince lawmakers of the desperate need for compassionate immigration policies.
"Someone in Washington, DC, regardless of which party they might be in, might see that moment that little girl is hugging her dad for the first time and say, 'We need humane immigration policies,'" Morones said to Scary Mommy.
The humanitarian work of Border Angels isn't confined to this one day, however. With thousands of volunteers, they work tirelessly throughout the year. For instance, the organization facilitates community education and awareness programs, including guided trips to the desert to place water along migrant crossing routes. They also bring food and personal items to safety stops and provide legal assistance to migrants.
This organization is the real deal, friends. Love is borderless, and we're all in this together — whether we realize it or not.
"Only love will overcome hate, love," Morones said. "Si se suede."
This article was originally published on