It's Worse Than I Thought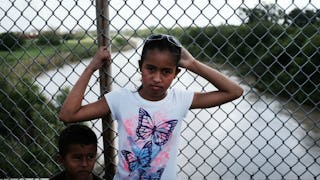 Spencer Platt / Getty
At the end of June, I flew down to Harlingen, Texas to visit the front lines of our country's unfolding human rights crisis in McAllen, Brownsville and on the border. I expected to see and hear things that made me sad and angry, but I didn't expect to feel completely blindsided and unable to process it all.
It was so much worse than I thought. How could I say that here in my U.S.A. — land of the free, home of the brave — we are treating other human beings, children even, like they're garbage? Like they're nothing. How do I describe everything to my family and friends, even my colleagues who have seen what's believed to be some of the worst humanitarian crises in the world?
My group – including the presidents of top children's organizations – was denied access to an Office of Refugee Resettlement facility (a.k.a. ORR detention center, or as some people refer to them, jails), even though all the proper paperwork had been submitted on time. The reason given was that the tours were rough on the kids. But the stories I heard from the lawyers and medical professionals we met with at the border and the things I saw seemed way worse on the kids.
A 13-year-old pregnant from rape in a detention center. A 1-year-old inconsolable at the sight of his lawyer's banana — all the detained children had been offered that day was a bologna sandwich hours before because there aren't "snacks" in detention centers. A woman who had lost her 8-year-old daughter, been kidnapped and held for ransom by a drug cartel, then detained and denied appropriate medical attention for months (even using sanitary pads as bandages) until she was near death and had to be medevaced to a San Antonio hospital hundreds of miles away.
Babies who have spent more time in detention than in the outside world, learning to walk and talk behind bars. An 8-year-old girl who had regressed so severely while in detention, she was asking to be breastfed like a baby. A mother who had risked everything she had to reach the U.S. border with her three young children — except her oldest, her 3-year-old son, fell from their raft and the coyotes (traffickers) who controlled the raft refused to stop for him. She looked back and watched helplessly as he drowned in the Rio Grande while she clutched her two younger babies and wailed. Traumatized and depressed, this mother relayed her story to a lawyer as she sat in a detention center with her two surviving children.
"No one puts their children in a boat unless the water is safer than the land." This line from the poem "Home" by Somali-British poet Warsan Shire about Syrian refugees applies here too. No parent chooses a life-threatening, treacherous journey unless they're fleeing worse. And when they finally reach the border, our most militarized border, they walk the Reynosa Bridge seeking asylum and are out of their minds with fear and trauma from their journey, clutching their children and weeping, all within arms' reach of U.S. Immigration and Customs Enforcement (ICE) agents who refuse to ask if they're okay or direct them to the air-conditioned U.S. Customs and Border Protection facility a few feet away.
At least that was the case for Maria and her 5-year-old son, who had come from Honduras and didn't know what to do until our group of six women formed a protective "mama bear" circle around them and ushered them through, all while ICE agents barked at us to "keep moving and leave her alone."
In juvenile immigration court, I watched the proceedings of 11 unaccompanied minors. Only two of them had representation. One of the children who didn't was an adorable 9-year-old girl with big, brown eyes and a pink ribbon tied in her hair. The bow got messed up every time she slouched back on the court bench out of boredom. (She's 9.) It was her second time appearing in court without representation, and the judge offered her a special third hearing as long as she had representation the next time.
The worst was a 16-year-old boy, again without representation, who asked for voluntary return, meaning he was forfeiting his asylum claim and asking to be deported back to his home country of Guatemala. The judge asked him why he was asking to return to the country he had fled. The boy said he had spoken to his mother on the phone and she had said it was time for him to come home. But when the judge asked if he felt safe going back home, he said, "No."
While teenagers may seem mature, they're still kids, some of whom have been without their parents for years and are entering the courts alone, confused, not understanding the language and scared. So scared. Every one of the children I saw in court fidgeted or teared up or looked plain terrified. I've only been to court once, and even though I went as a 22-year-old, my dad flew up from my home state of Texas to be by my side.
What I saw and heard were fellow human beings — mothers, fathers, little boys and little girls — who, because they didn't get to choose to be born in the U.S., were being punished for it. "An avalanche of punishments," according to a local civil rights lawyer. Treated like lesser thans. Illegals. Aliens. Bad hombres. After they had already been dealt so many blows.
It's time we see Maria and the others not named for their protection (even some of the lawyers asked to remain anonymous, as they've received death threats), like the fellow human beings they are. It's time we make it law that every single one of these children has access to an attorney.
In the meantime, we must support organizations like CARA Pro Bono Project, which, according to their one and only full-time staffer, Shalyn Fluharty, is operating like the "legal version of the emergency room," representing nearly all the cases in the South Texas Family Residential Center, commonly referred to as Dilley, the largest immigrant detention center in the U.S.
It's time we end family detention. An Alternatives to Detention program costs American taxpayers $36 a day for an entire family compared to $300 a day to detain a family and $775 a day to detain a separated child. Also, the centers are currently overflowing with nearly 12,000 children. Let's free these families and give babies the chance to take their first steps and say their first "Mamas" outside of cages. Let's let pregnant women choose a doctor or midwife they feel they can trust and who has their and their baby's best interests at heart. Let's support efforts to address the root causes — abuse, death threats from gangs, crippling poverty — in these home countries that are driving families to our borders.
And, at the very least, let's talk to our kids about not just tolerance and acceptance, but compassion and action. It should be as simple as imagining, "What if this was me and my family?"
This article was originally published on