There's 250 Kids Living Without Proper Food, Water, And Care At A Texas Border Facility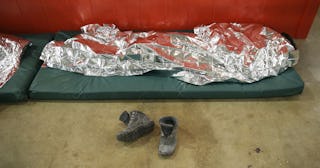 John Moore/Getty
Teen girls caring for a sick toddler by themselves is just one atrocity happening at a Texas border facility
There isn't a day that goes by without a report coming to light about the horrifying conditions at border patrol and detention facilities housing asylum-seekers in the United States. This one involving 250 infants, kids, and teens locked up for almost a month in Texas without adequate food, water, or care is no exception. The details will make you nauseous.
Government law prohibits children to be held by the Border Patrol for longer than 72 hours before they are transferred to the custody of Health and Human Services, but for many, those 72 hours have turned into almost a month, and because these facilities are not equipped to handle the overflow of individuals, conditions can be described as inhumane at best and dangerous at worst.
Attorneys who spent time at a Border Patrol facility near El Paso told The Associated Press that three girls no older than 15 were seen caring for a sick two-year-old boy because no one else was around to do so — babies taking care of babies. The boy wasn't wearing a diaper and his clothes were covered in mucus. He had wet his pants. They also reported at least 15 kids were suffering from the flu and most were being fed uncooked frozen food or rice and hadn't showered or cleaned themselves in weeks.
"In my 22 years of doing visits with children in detention I have never heard of this level of inhumanity," Holly Cooper, an attorney who represents detained youth, said. "Seeing our country at this crucible moment where we have forsaken children and failed to see them as human is hopefully a wake up for this country to move toward change."
For those saying it was their choice to put themselves and their families at risk by coming here, there is no saving you. Just read one first-person account from inside a facility in Dilley, Texas, and tell me any parent wouldn't do the same for their child. Talking about the mothers he spoke to, trial lawyer Martin Garbus said, "They had come, primarily, not to save their own lives, not even to save themselves from hopeless poverty or endless physical and sexual abuse, but to save their daughters and sons. The mothers believed their children, who were facing sexual abuse, rape, violence, and possibly murder in their native countries, would be safer in the United States."
The already terrifying situation at facilities housing migrant kids across the U.S. has gotten even worse in recent months. Five children have died in custody since December and conditions in the facilities themselves have reached the point of being unlivable because of overcrowding, poor management, and lack of Congressional support for more funding. For kids separated from their parents sitting in facilities unable to properly care for them, the situation is dire.
While these human rights violations continue to happen on a national scale, Trump tweeted earlier this week that Immigration and Customs Enforcement agents "will begin deporting the millions of illegal aliens who have illicitly found their way into the United States … as fast as they come in."