Nurses Claim Border Patrol Intentionally Delays Treatment For Sick Migrant Kids
by Cassandra Stone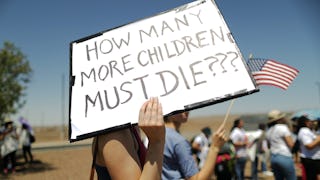 Mario Tama/Getty Images
In a new damning report, local Texas nurses say they think kids aren't getting medical treatment fast enough
It is against the law for any child to be held at U.S. Customs and Border Protection facilities for more than 72 hours, and yet, many migrant children — of whom a majority are ill — are living like prisoners in these government-mandated concentration camp "centers" for up to a month before being transferred into the custody of Health and Human Services. Buzzfeed News is reporting that nurses in local Texas hospitals believe Border Patrol agents are intentionally delaying much-needed medical care for the sick children inside.
Two registered nurses spoke to Buzzfeed on condition of anonymity because they fear retaliation in the form of job loss. But what they've seen while on the job has rattled them so deeply, they felt they needed to speak up about it.
The nurses have treated sick immigrant children at the hospital where they work, located in the Rio Grande Valley. They say they've seen young patients arriving in such a poor state of health, they're on the "borderline" of going into respiratory or cardiac arrest. They say the Border Patrol agents are delaying taking the sick kids who are in "dire conditions" to a hospital, which puts the kids at risk of severe health issues — and death.
In some cases they should've been here a week ago and they decided to wait until the last minute," one nurse tells Buzzfeed. "It makes me wonder what Border Patrol is doing. Why is it taking them so long to realize they need to take them to the hospital?"
It's likely that many migrant children are already ill by the time they get taken into custody (given the long, arduous journey many of them must make to reach the border and how long they're made to wait to be processed, this is no surprise). But the nurses say illness is spreading because the children aren't being given access to clean water, clothes, soap, etc.
Last week, local physician Dolly Lucio Sevier wrote in a medical declaration that children in the McAllen detention center faced "extreme cold temperatures, lights on 24 hours a day, no adequate access to medical care, basic sanitation, water, or adequate food."
She said the youngest child there was two and a half months old and of the 39 children she assessed, all showed signs of trauma. Some teenagers even told her that they hadn't been given access to wash their hands once since entering the facility and teen mothers weren't able to wash their children's bottles. There was reportedly no developmentally appropriate pureed food for infants either.
"The conditions within which they are held could be compared to torture facilities," Sevier wrote in the declaration.
Due to these deplorable, horrific conditions, an emergency motion was filed recently by immigration lawyers who are seeking immediate access and inspections of the Clint site as well as 20 other facilities.
The lawyers involved are claiming that Border Patrol officials are forcing children to take care of strangers' babies and that all the children are denied access to basic hygiene like showering and brushing their teeth, as well as nutrition and food.
Donald Trump's response is exactly what you'd expect it to be, because being cruel and divisive is the ultimate goal of his administration: "Our Border Patrol people are not hospital workers, doctors or nurses. The Democrats bad Immigration Laws, which could be easily fixed, are the problem," he tweeted earlier this week. "Great job by Border Patrol, above and beyond. Many of these illegals aliens are living far better now than where they came from."
Until the United States government changes our criminal immigration and asylum policies, innocent children will continue to suffer physical and psychological trauma. They will continue to die. All we can do is continue to hold our representatives accountable and keep donating to organizations like RAICES Texas.