Border Wall Seesaws Were Built So Kids In The US And Mexico Can Play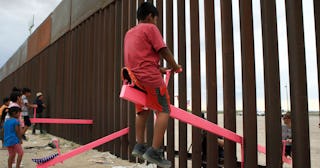 LUIS TORRES/Getty
The seesaws literally let kids play together, but symbolically, mean so much more than that
Sometimes, we just need a simple reminder that we're much more alike than we are different. At the U.S.'s southern border wall, we got one of those this week when a group of engineer activists installed a project that's been long in the works: Seesaws that intersect the wall so kids on the American and Mexican sides can play together.
Ronald Rael, a University of California architecture professor who was on the team that came up with the seesaw project, posts photos and videos to Instagram after it was installed.
What we see in the video is so pure and simple. Kids (and adults) are just playing with one another, even as the physical border between their countries separates them. Rael wrote in the caption that the project means so much symbolically.
"The wall became a literal fulcrum for U.S.-Mexico relations and children and adults were connected in meaningful ways on both sides with the recognition that the actions that take place on one side have a direct consequence on the other side," he wrote.
Rael and San Jose State design associate professor Virginia San Fratello first thought of the idea to install seesaws in the border wall 10 years ago, in 2009. A decade later, the project is finally complete. Three bright pink seesaws now intersect the wall between El Paso, Texas, and Ciudad Juárez in Mexico's Chihuahua State — an area that's been in the national spotlight as the Trump administration has cracked down on immigration (both legal and illegal) in the U.S.
What the seesaw wall represents is the fact that no wall can halt the togetherness that humans naturally have, just from being human. We may come from different places, but we're all inextricably tied to one another — like Rael wrote alongside his video, all of our actions affect others in the world, whether we know it or not.
Now, photos and videos of the new wall installation are making the rounds on social media, and people are delighted by what they're seeing.
The joy of kids playing together comes in stark contrast to kids who are being held in migrant detention camps on the U.S. side of that wall. Many of them entered the U.S. legally, seeking asylum from Central American countries, and several (that we know of) have died in U.S. custody at camps where conditions are known to be horrific. Reports have come of kids (and adults) in these camps being sexually abused, denied food and basic needs, and separated from their families. This period in time will be a black mark in America's history, as we have yet to do anything to stop the human rights violations and mistreatment toward people turning to us for help.
This article was originally published on