Boss Has The Perfect Response To A Request For Mental Health Days Off
by Christina Marfice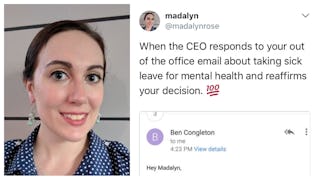 Image via Twitter/ @madalynrose
One woman's email — and her CEO's reply — is helping change the way we think about mental health at work
When it comes to all the things we're required to do in our day-to-day lives, especially at work, mental health is just as important as physical health. But there's a stigma attached to mental health, and it's something a lot of people just aren't comfortable discussing and taking care of.
Madalyn Parker, a web developer for Ann Arbor, Michigan-based Olark Live Chat, isn't one of those people.
When Parker decided to take some time off work to take care of her mental health, she sent an email to her work team. She was clear and unapologetic about why she needed the time off, something we all could learn to be better at.
Under the subject line "Where's Madalyn," she wrote, "I'm taking today and tomorrow to focus on my mental health. Hopefully I'll be back next week refreshed and back to 100%."
The way Parker is unapologetically putting her health before her job is inspiration enough, but her CEO's response to the email makes the story even better.
"I just wanted to personally thank you for sending emails like this," CEO Ben Congleton wrote. "Every time you do, I use it as a reminder of the importance of using sick days for mental health — I can't believe this is not standard practice at all organizations. You are an example to us all, and help cut through the stigma so we can all bring our whole selves to work."
Parker tweeted the email exchange (with Congleton's permission), and it's gone viral, being retweeted more than 10,000 times. It's no wonder it resonates with so many people — one in six adults in the U.S. is treated for some kind of mental illness.
There were tons of responses to Parker's tweet. Some people shared their own stories about trying to take care of their mental health at work.
Others didn't understand the difference between a mental health day and a vacation day, prompting Parker to clarify.
And others questioning whether mental health is really a good excuse for missing work (spoiler alert: It is. Duh.).
Parker shut that right down, with the help of a supporter.
https://twitter.com/jetpack/status/881315582624153600
The truly unfortunate thing is that CEOs like Congleton are rare. The stigma surrounding mental health is still very real, and workplaces where an email like Parker's would be not only accepted, but encouraged, are rare. It's something Congleton explored in a post to Medium about the now-viral email.
"It's 2017. I cannot believe that it is still controversial to speak about mental health in the workplace when 1 in 6 americans are medicated for mental health," he wrote. "It's 2017. I cannot believe that it is still controversial to offer paid sick leave. Did you know that only 73% of full time employees in the US have paid sick leave?"
And in one particularly poignant passage, he added, "It's 2017. We are in a knowledge economy. Our jobs require us to execute at peak mental performance. When an athlete is injured they sit on the bench and recover. Let's get rid of the idea that somehow the brain is different."
We have a lot of work to do before taking care of our mental health is normalized, but steps like these give us hope.
This article was originally published on