Things To Do In Boston With Kids — Best Tours & Family Activities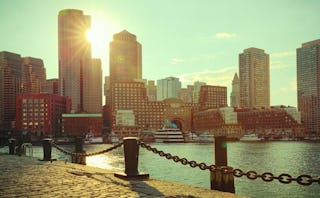 As far as family friendly cities go, Boston takes the cake. At least, we natives think it does! There's no shortage of fun things to do in Boston with kids — you could spend a month and still not do them all. But if you have limited time in the city, be sure to check out these kids activities in Boston.
What to Do in Boston With Kids
Get Historical. Boston features a great deal of historical activities for families. The Freedom Trail is a fun way to get your kids excited about history. It is a 2.5 miles-long trail with 16 different historical venues to visit. You can walk the trail for free, but there is also a guided tour/entrance fees for all locations. Most importantly, there are a lot of food options right around, or just off, the trail to feed your hungry army. In fact, if you or the kids aren't quite sure what you're in the mood for, you can taste a bite of some of the best restaurants in Boston on the Bites of Boston Food Tour.
Take a Duck Boat. I really mean it, the Duck Boat tours in Boston are fun for all ages, and take you around Boston both on land and by sea. While they are a little pricey, they also last for a good amount of time, and are highly entertaining. There are a few different options in terms of where they go, but most are around the downtown harbor area, which is central to pretty much everything else.
The New England Aquarium is a SERIOUSLY awesome thing to do in Boston with kids. There are interactive exhibits where kiddos can get their touch on, shows to watch some seals do crazy things, and most importantly — the penguins. You have to love watching penguins simply do what they do. Those birds are awesome. Smaller toddlers might not have the attention span to last here for a great amount of time, it seems to play better with kids ages 3+.
Best Museums in Boston
So Many Museums….go to them all! We love museums in our family, and are lucky that there are SO MANY options here in Boston. We have the Boston Children's Museum, the Museum of Science, the Museum of Fine Arts, The Isabella Gardner Museum, The National History Museum, the Decordova Museum…and the list goes on. Our top three museums for kids are:
– The Boston Children's Museum. We love the Children's Museum with our 2-year-old. The museum is really for crawlers through age 8. Older children will likely not find themselves entertained for great lengths of time, but the younger set could (and in our case does) happily spend three-four hours exploring the different exhibits. There is a whole room dedicated to bubbles! Also, there is an attached Au Bon Pain which is nice for us caffeine addicts.
– The Museum of Science: Boston. The Museum of Science: Boston is the BEST option for families or groups with a large age-range. From the Omni Theater, to the planetarium, the Electricity Show, and the children's discovery area, there is something for everyone at this amazing museum. GO! Do not miss it — there is also a convenient (though overpriced) food court. Make sure you hit up the musical staircase- toddlers can't get enough of it!
– The Museum of Fine Arts Boston. This option is truly better for families with older children as the younger brood often does not seem to be quite entertained by the art. If you are in the area on the first or third Monday of the month, there is a toddler playdate program at the museum with more hands-on activities for kids in Boston, but other than that, the fabulous art exhibits appeal far more to the older crowd.
Places to Go in Boston
Farmer's Markets/Town Fairs (May-October). There are a great deal of farmer's markets and town fairs that occur just outside of Boston throughout the weekends between May and October. Cambridge and Somerville tend to have amazing farmer's markets where you can sample local flavors, and pick up some awesome food from the vendors. Local towns like Belmont, Watertown, Lexington and others have fairs frequently where there is food, games, activities and (occasionally) rides.
The Boston Ballet.The Boston Ballet is one of the top companies in the country, and the spectacles they perform are mind-blowing. The company's Nutcracker is (in my opinion) one of the very best in the country, and runs from around Thanksgiving, through the New Year. Any of their shows are worth seeing, and children over the age of 4 usually love it!
The North End/Faneuil Hall/Harborfront. It's free to walk! So why not take a day and just stroll around Boston. Quincy Market (also known as Faneuil Hall) features an unbelievable amount of food, including local "chowdah" in bread bowls, lobsters and many other tasty dishes. The harbor (by the aquarium no less) has Legal Sea Foods, where you can eat overlooking the harborfront- nice views of lots of ships. And most importantly, the North End, one of my personal favorite parts of Boston. The North End is an old Italian section of Boston where the old ways still are the best ways- you will eat the best pasta you have ever had, and the best, bar none, cannoli if you go to Mike's Pastry. Just walking around downtown is pretty fun for the kiddos, and there is tons of stuff to do and see.
Whale Watching in Boston
Whale Watching. Well, you're already downtown by the harbor, why not jump on a ship? Boston whale watching is an institution. You are practically guaranteed to see something awesome, and kids love the adventure of being out to sea. Boston Harbor Cruises offers whale watching tours at all different times of day. Jump on the boat (grab some hot cocoa too) and go for a ride!
Day tripping to Cape Cod. You would do yourself a huge disservice if you come to Boston with kids but skip "The Cape." Cape Cod, about an hour outside of the city, is simply beautiful. It is also home to some of the best seafood you will ever eat. Take a bit of a longer trip, and get out to the outer Cape, and try some amazing Wellfleet oysters, sample lobster bisque, walk along (or take a dune buggy ride!) over the sandy dunes. Beaches and wildlife abound- the Audobon in Wellfleet has awesome resources for kids interested in nature and animals.
Best Food in Boston
The Chocolate Buffet. I can't help it. I tried not to include this, but it just must be done. What kid doesn't like unlimited chocolate? What adult for that matter? Well…here it is… the chocolate bar! On Saturdays from September to June, the Langham Hotel in Boston provides an absolutely decadent experience of all-you-can eat chocolate. The chocolate comes in every form, in every dish, and is divine. And, of course, calories from chocolate don't count.
There are so many wonderful restaurants in Boston — even if you're not planning on skipping dinner and going straight to the chocolate dessert. Boston Magazine has a full list you can check out to satiate all the palettes of your family.
MORE: Seattle Attractions You Must Check Out With Your Family
Best Things to Do With Kids in Atlanta
Things to Do in Baltimore With Kids
This article was originally published on