Try Not To Laugh At This Couple's Botched Gender Reveal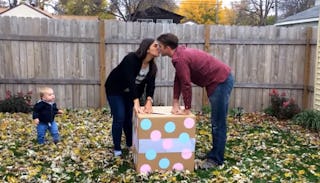 Image via YouTube
This gender reveal fail went viral because it's way too funny.
The gender reveal has become a thing in recent years with parents recording their reaction to the news of whether their baby is a boy or a girl, often sharing the result on social media. One couple set out to create a video of their magical moment only to have it go hilariously awry.
Seriously. We dare you not to laugh.
Leela and Joe Krummel had high hopes for their gender reveal party, having planned quite the shindig. YouTube footage of their big moment has since gone viral because the climax didn't pan out exactly as they'd hoped. In a caption for the video, Joe says, "We invited 30 friends and family over for a lovely brunch and gender reveal party for our new baby. It was simple . . . or so we thought!"
The best part, besides Leela's momentarily furious face, is Joe's very audible, "What the fuck?" The party store employee was obviously supposed to fill the box with either pink or blue balloons, but for some reason, got a little rainbow happy instead. On top of that, the envelope that held their big news was nowhere to be found.
And we can't stop laughing.
Of course, we feel a little for mom. The look on her face says it all — she'd been waiting so eagerly for this moment, to know if her new baby was a boy or a girl. It's totally normal that she felt deflated and heartbroken, but come on. It's still hysterically funny.
When those balloons emerged, she was confused and disappointed, but in the end, was it really that big of a deal? Is it possible we've started to place too much importance on these dramatic "reveals" when there are only two possibilities and neither of them are the Kraken? In the end, this "fail" actually made the video one of the most watchable and fun gender reveals we've ever seen. And after her brief shock, the mom moved on and seemed to find the humor in it too.
The Krummels posted a follow-up video revealing a new set of balloons after finding the envelope. Blue, for a boy. We congratulate them on the exciting news and thank them for the fun video, even though it wasn't exactly what they wanted.
H/T PopSugar
This article was originally published on