I Ordered A Bakery Cake For My Kid To Ease My Stress––It Backfired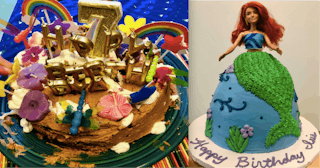 Courtesy of Katie Coppens
One of my favorite activities with my kids is baking. It's a time when we get messy, creative, and always add extra chocolate chips. Significant planning goes into each birthday cake for our family members, ranging from the strenuous rollout of brown fondant to make a football-shaped cake for my father-in-law to designing a camping-themed cake for my husband. I let the kids decorate each cake, while my focus is on making sure it tastes good!
My youngest daughter and my husband's birthdays are one day apart, both in mid-September. I'm a teacher, and every year it's a challenge. But, in a pandemic and the year my youngest started kindergarten, it felt like a lot to take on. Then my daughter asked for a mermaid shaped cake with a Barbie in it, and it was officially too much.
On my way home from work, I drove past a bakery and realized that this would be the year we would commission a cake. We'd bake for my husband and buy for my daughter. I felt good about it and allowed myself to embrace the feeling of not having to do everything.
I ordered the cake and asked for the smallest size possible. Done. Success.
An hour later, a call came saying that the worker didn't know that I needed to supply the Barbie. I looked at our bin of plastic dolls and saw one with a missing finger and a speckled tan of dirt. I reminded myself to keep it simple. I went online and found one that was $8 and had brown eyes like my daughter. Success — thank you, two-day delivery!
The doll arrived, and after work, I headed to the bakery with a clean, smiling Barbie with untangled hair. I stood in line and realized that I needed to undress Barbie. Her bare, nipple-less boobs looked enormous. As I waited, I looked at her face and figure and questioned why I supported an industry that perpetuates this image. The man standing next to me saw me eyeing Barbie's body, and I quickly covered her bare bits with my hand. Finally, it was my turn in line, and I handed her over and asked if they could make a seashell top out of fondant. The worker at the counter brought the doll to the baker to ask if he could do that.
The baker then returned with the doll in hand, and we discussed how to cover her breasts. He explained that their bakery doesn't use fondant and that frosting would slide off. He also politely told me that most people buy a mermaid doll for the cake or they sew something.
Sew something? I thought about mermaids and tried to justify that a more authentic mermaid would probably have bare breasts. I gave it a good three seconds of justification in my head, then pictured my soon to be five-year-old looking at her cake and how much focus would be on why Barbie was naked on top. I reassured the baker that I'd bring Barbie back tomorrow with a top.
Barbie stared at me with her unblinking eyes and her annoyingly white smile. I asked my daughters to help me solve this problem, and we were almost ready to use duct tape when my daughter thought of our bin of fabric scraps. I cut some blue fabric into a rectangle and tied it in the back. Done.
The day after I dropped off Barbie, the phone rang, and it was the bakery. They realized there was no price on the ticket and wanted to confirm that I knew the cake would be $90, and that the smallest cake they could make was a three tier-cake. A tiered cake!? Ninety dollars!? I said the only thing I could at this point, which was "okay." We were all committed to this cake.
Monday at our predetermined pick-up time, I arrived, and they said it would be five minutes or so to box it up. The baker came out and explained that this is how they prepare wedding cakes to get to the location safely (I didn't have a wedding cake, so this was all new to me). The baker explained that they cut a side of a sturdy box, fold up the box's cut side, and tape it; then you cut the tape and slide the cake out, he emphasized not to lift it. Before sealing in the cake for safe delivery, he showed me what he created.
My mouth dropped, and the artistic side of my brain said, "It's amazing! Thank you so much!" Then the practical side of my brain took over, "Um, how do we cut into it?"
"You cut it like a ham. When you hit bone, you stop cutting. By the bone, I mean Barbie."
Gross. I looked at the Barbie towering over her tail as awe for the cake turned to regret. "Can I ask you a question?"
"Of course."
"How do you go back to giving your kids homemade cakes?"
"Honestly, you probably don't. Each year, the same people come back, and the cakes they order get bigger and bigger."
"Oh," I said, but Oh no, is what I thought.
The box was big and awkward, and he kindly offered to carry it to my car.
As I drove home, I could see the box towering in my rearview mirror. What had I done? I got home and I asked my husband for help getting the cake safely in the house. He saw the size of the box and also questioned what we had done.
Then, my daughters ran into the kitchen, and there were jumps of joy and squeals of delight from both of them as we opened the box. My youngest daughter even got out a stool so she could see Barbie in her full glory as I spun the cake in a circle. Then, the moment came that I feared. My older daughter asked, "How come you never bought me a cake?"
Sigh.
Her 7th birthday was in April, early in the pandemic. We planned and prepared for her chocolate mousse cake. We love our chocolate mousse frosting recipe; it's requested by most people weeks before their birthday. In April, our family had so much fun decorating her cake and savored every bite. I reminded her how much fun we have making cakes, including the one we did yesterday for her dad, and she gave me a polite nod. How do we return from designer bakery-made cakes back to our homemade creations?
A glimmer of hope came when my older daughter ran to our drawer of cake decorating supplies and shoved a number five candle into the cake. I loved that in the middle of Barbie's perfectly shaped tail was a crooked candle. It felt real, and it felt like us. As we sang "Happy Birthday," it was heartwarming to see how happy my daughter was. And at that moment, I was okay with our decision.
Then, it was time to cut the cake, and it truly was like cutting a ham. It was dense. My youngest took the first bite of the three-layer chocolate cake and pushed the plate aside. She then got up and ran over to her opened gifts. Then, my oldest did the same with her plate and said, "I don't really like it." Those are the words that every parent hates, especially when every slice of cake costs about nine dollars, but at that moment, if words could have a taste, they would have been delicious. Then, they got even better when she asked, "Is there any of Dad's cake left?"
I went to the fridge and brought out the angel food, chocolate mousse cake that we had devoured the night before. After taking a bite, she said the best words of all, "I changed my mind. Can we still make my birthday cake?"
I kissed her on the top of her head.
She smiled, and our homemade chocolate mousse frosting clung to her lips and smiled with her.
This article was originally published on