A Subscription Box Of Disney Snacks Delivered Monthly? Yes, Please
by Christina Marfice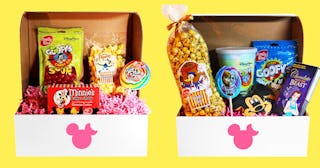 Boxney
Disney foodies never need to set foot in another park, thanks to Boxney
Every hardcore Disney fan knows the heartbreak of craving a Mickey-themed food that comes from a Disney park, but not being able to get your hands on it, because, you know, it comes from a Disney park. But foodie fans of the Happiest Place On Earth™ may never have to face that particular problem again, thanks to Boxney.
https://www.instagram.com/p/BvVOZ0nHxtM/
Boxney is not affiliated with Disney, but they've created a subscription service that will allow foodie fans to get their hands on some of the best themed and limited edition snacks from the parks without having to brave the crowds, lines and ticket prices themselves. Instead, Boxney employees head to Disney World every month to snag enough snacks from all the parks — Magic Kingdom, Animal Kingdom, Epcot and Hollywood Studios, as well as Disney Springs — to do the work for you. All you have to do is sit back and wait for your Boxney creation to arrive, packed full of exclusive and limited edition treats.
https://www.instagram.com/p/Bs3VPvNH-wx/
Boxney is offering three tiers of subscription boxes at different sizes and price points that can be delivered straight to your door each month, packed with delicious, mousey snacks.
There's the mini, which costs $30 per month plus shipping, and comes with 3-4 snacks each month.
Or you can snag a subscription for the original, which will set you back $60 per month plus shipping, but comes with 4-7 treats.
And for the most diehard fans, there's the premium box, which costs $110 per month plus shipping, and arrives packed with 10-15 snacks, treats and other items.
Sold. Sign us the heck up.
The boxes seem to come with a good variety of park-exclusive goodies. Recent offerings have included Main Street Maple Bacon Popcorn, Waffle Cone Milk Chocolate Bars, Goofy Taffy and Gourmet Jelly Beans. Plus, some boxes even come with merch alongside all the snacks. And you don't have to worry about repeats, because Boxney will keep track of what you've already received and make sure to mix it up each month. This is truly a Disney-lover's dream.
https://www.instagram.com/p/Bsudwq2HvJS/
As someone who follows multiple Disney food blogs and social media accounts, this will make one day every month feel like Christmas. And I know I'm not the only one. Foods from these theme parks have a serious following. It's not fans' fault that taking a monthly trip to Disneyland is out of the question, both because no one has the budget for that, and because, let's be honest, spending that much time there would ruin the magic a little bit. A subscription box, instead, brings just a touch of the magic to your doorstep every single month. Who wouldn't want this?
https://www.instagram.com/p/BsJ77VrnLyy/
And if committing to a monthly delivery is too much, you can also order one-off deliveries of Boxney's sets. If there is a more perfect gift than that for a Disney lover in your life, I would like to see it.
At least until your next Disneyland trip can be planned, Boxney is the perfect way to grab your parks fix.
This article was originally published on