Mom Shares Photos Of Her Son Playing Exactly Where Boy Was Attacked By Alligator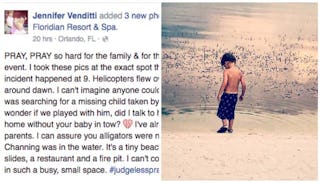 Mother shares images of her son playing in the exact spot a 2-year-old was attacked by an alligator at a Disney resort
Yesterday, news that a two-year-old boy had been snatched right from his parents and dragged into a lagoon by an alligator at a Disney resort in Orlando surfaced. The boy did not survive.
Jennifer Venditti, a mom of a child who had been playing in the exact spot where 2-year-old Lane Graves was attacked, shared images of her son playing — just as Lane had been. Just a half hour before tragedy struck for another family.
Imagine for a moment being Lane's parents, who went to Disney to see the joy in their kids' faces. Imagine being in an area of a resort where families constantly play. Imagine watching your child scream as he's being dragged into the water. His father tried to fight off the alligator, but alligators are strong and vicious. And they are all over Florida.
That did not stop the internet from pouncing on the parents — amidst the worst hell a parent could ever endure. Immediately, heartless "onlookers" behind the safety of their computer screen began hurling accusations: Why was a child that young up at 9:30? Disney had no swimming signs posted so why were they in the water at night? I can't believe that people don't know that there are alligators in Florida.
This freak accident could have happened to anyone wading in any body of water larger than the size of a puddle. Venditti shared these images the same day of the attack to hopefully make that point:
"I took these pics at the exact spot this happened between 8 & 830, the incident happened at 9. Helicopters flew overhead 'til 1 am and were back around dawn," Venditti writes. "I can't imagine anyone could sleep knowing that the helicopter was searching for a missing child taken by an alligator." Imagine being there, knowing that parents were desperately awaiting the return of their child's body. It was always a recovery effort. As soon as he was viciously taken we all knew that.
But it didn't stop people from criticizing parents who were praying for the return of their child's body.
"I can't help but wonder if we played with him, did I talk to his Mom?? How does one go home without your baby in tow? 💔 I've already seen posts criticizing the parents," Venditti writes. "I can assure you alligators were not on my mind at all when Channing was in the water. It's a tiny beach, surrounded by pools, water slides, a restaurant and a fire pit. I can't conceive that an alligator would be in such a busy, small space."
You're at Disney World. Families are everywhere. You're not from Florida or familiar with just how many alligators there are, and the spaces they are able to inhabit. And your child is gone. And the internet is blaming you. Put yourself in those parents' shoes for one moment.
Then just try to blame them for what happened to their child.
This article was originally published on