3 School Employees Charged With Manslaughter After Boy With Autism Dies
by Cassandra Stone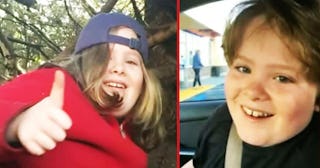 Eyewitness News WTVO WQRF/Youtube
The boy died last year after being physically restrained in school
Three former employees of a Northern California alternative school are each facing a manslaughter charge after an incident last year in which a student with autism died after being restrained. Earlier this week, the El Dorado County District Attorney announced the filing of charges against three people working at Guiding Hands School,
Guiding Hands School Executive Director Cindy Keller, Principal Staranne Meyers and special education teacher Kimberly Wohlwend each face a charge of felony involuntary manslaughter, according to a news release from the El Dorado County District Attorney's Office.
Thirteen-year-old Max Benson, a student at the school with autism, died after he allegedly became violent while at Guiding Hands, and was restrained by one of the school's employees, with his face to the floor for approximately one hour. According to investigators, at some point during the restraining, Benson became unresponsive and that's when a teacher performed life-saving measures on Benson and he was rushed to UC Davis Medical Center.
Guiding Hands School, Inc., as a corporation, is also being charged with one count of felony involuntary manslaughter. "This charge is based on the November 28, 2018, prone restraint of a minor student by Kimberly Wohlwend that resulted in that student's death," reads the statement from the prosecutor's office. "This case is being filed after a lengthy, multi-agency investigation into the facts and circumstances that led to the death of this student."
According to the prosecutor's office, it was Wohlwend, the special ed teacher, who used a "prone restraint" on the teen, meaning she held him face-down on the ground. According to CNN, school staffers underwent annual de-escalation training and the last resort was to put a student in a "neutral position."
Guiding Hands School, Inc., was a privately operated, publicly funded school specializing in providing educational services for students with special needs. The school had been in operation for 25 years when the California Department of Education suspended the certification for the school as a result of the student's death.
"Revoking a school's certification is an action that the CDE takes very seriously, and it is not done without careful consideration and justification," State Superintendent Tony Thurmond says. "Guiding Hands' refusal to take responsibility for its actions is disheartening. It would be an injustice to the families we serve if we did not do everything within our authority to ensure that students are placed in an environment where their safety is the number one priority of those who have been entrusted with their care."