Little Boy Dresses As A Superhero To Feed Stray Cats In His City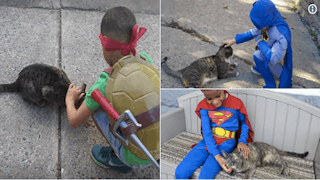 This kid knows if you're going to be a superhero, you've gotta dress the part
There's nothing the internet loves more than a real-life superhero, and this little boy is tugging at heart strings all over Twitter.
Who needs the Justice League when you have 5-year-old Shon?
Shon lives in Philadelphia and he — along with his aunt and uncle — helps care for and feed stray cats in the city. Kris Papiernik and Kia Griffin have been independently rescuing cats in Philly for 40 years, and whenever their nephew Shon visits them on the weekends, all he wants to do is help.
But Shon puts his own spin on it, as the internet learned when Kwesha Dali tweeted out some pictures of the little boy in action, complete with costumes. "He said it makes him feel like a superhero for animals," Papiernik told The Dodo.
The tweet, featuring pictures of Shon tending to some kitties while decked out as a Ninja Turtle, Batman, and Superman, has been retweeted nearly 9,000 times,and has over 20,000 likes. Because he is the superhero we need. And the cats know it.
"We were a little hesitant at first because they're feral cats, and we thought they're going to run from a rambunctious 3-year-old," Papiernik said, but "It was the total opposite — they just gravitated to him."
Can you blame them? Look at those pictures!
Twitter knows it too, based on the response the pictures have gotten.
https://twitter.com/jetpack/status/903713169687822336
Shon is still only five, and too young to do much besides fill the cats bowls with food and water, but that doesn't seem to bother him. He just likes to be around the cats as much as possible.
"If it's raining or cold or he can't go, he gets really upset," aunt Papiernik said. "He cries, and it really hurts him hard."
It seems that being away from the cats is Shon's kryptonite.
It's not just the costumes that make Shon a superhero. According to his aunt, he also has cat-whispering powers.
In their 40 years helping feral and stray cats, Kris and Kia aren't always able to do much more than feed them, and hopefully get them spayed and neutered. Of course, that's not easy to do when the cats are too skittish to come close to them.
"He'd scratch their bellies and scratch their heads. It was amazing to see these cats who wouldn't even allow us to touch them, but immediately took to him. He must have this magical effect that the cats can pick up."
Kris recalls one cat named Bug that was particularly tough to approach. "We couldn't get Bug neutered or anything because he wouldn't come to us, and he wouldn't come near the trap," Papiernik said.
That sounds like a job for Shon, who was able to make a friend of the feisty cat thanks to his superhero powers.
This article was originally published on