This Little Boy Crawling Away From A Social Engagement Is Your New Life Coach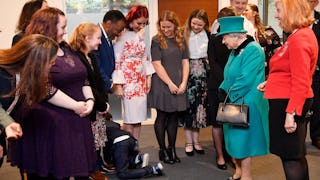 Image via Toby Melville - WPA Pool/Getty Images
A little boy became so overwhelmed meeting Queen Elizabeth that he literally crawled away, and we get it
Peopling is hard sometimes, right? Like, ever get the urge, in mixed company, to literally just get down on the floor and crawl the hell away? If so, we've got the hero you need — a little boy who got cold feet when it came time to meet the Queen and did exactly that.
According to People, nine-year-old Nathan Grant was waiting in line to meet her royal highness during her visit to The Thomas Coram Foundation for Children, a charity based at the Foundling Hospital in London. The big moment approached, and Nathan got a tad freaked. His mom introduced their family saying, "We are hosting today and this is our adopted son."
And then that son got the heck outta dodge.
He saw the Queen and was all NOPE.
Honestly, who hasn't been there? Hanging out a party and slowly realizing you don't really know anyone? Time to crawl out of the room. Uncomfortable convo at a school event for your kid got you panicking internally? Get on all fours and scoot. Nathan has life figured out at the tender age of nine, sensing danger and just sliding away from mom and heading to safety.
We stan a resourceful little dude.
Once he made his escape, he yelled "BYE" to HRH from the next room, and his mom said this was merely his version of a bow, but we know the truth — Nathan's just that extra when it comes to escaping awkward situations. We're 100 percent here for his ideas and we'd like to subscribe to his newsletter.
The internet completely related to Nathan's fight-or-flight decision.
https://twitter.com/jetpack/status/1071019164008136706
But you know, it was also just flat-out adorable.
https://twitter.com/jetpack/status/1070843421986701313https://twitter.com/jetpack/status/1070943043254149120
Nathan, we salute you for giving us a new tool in our arsenal for getting out of places we'd really rather not be. You're the hero we had no idea we needed.