A 13-Year-Old Boy In Missouri Dies From COVID-19 Complications
by Madison Vanderberg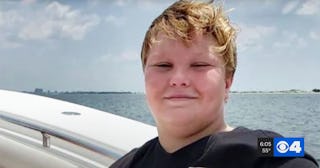 KMOV St. Louis/Youtube
An 8th grader has passed away after contracting COVID-19
Since the beginning of the pandemic, COVID deniers have been frustratingly claiming that children are immune from the virus, or that they get the virus and it's "not that bad." In many parts of the country, schools are open, and kids are yes, contracting COVID-19. Over the weekend, a 13-year-old boy in Missouri passed away from complications after contracting COVID and now his mother has put out a heartbreaking plea to get people to understand that "COVID is real."
13-year-old Peyton Baumgarth died over the weekend from COVID complications, the superintendent of his school system in Missouri said in a statement sent out to all families in the district. School was canceled for two days after his death and Peyton was also the youngest person to pass away from COVID-19 in the state.
Though his mom Stephanie Baumgarth, who also tested positive for COVID-19, told local CBS affiliate KMOV that her son had no underlying conditions, he wasn't getting better so she took him to the hospital where doctors were reportedly "baffled" at how sick he was. He died in the hospital a few days later.
"This is something that no parent should ever have to do and I don't even know how to take a breath," his mother said in a heartbreaking plea to the news station.
It's not clear where Peyton contracted COVID, but according to the School District of Washington's (where Peyton was a student) "Return To School Plan" from July 2020, face coverings were not mandated but were only strongly urged. The school district eventually opened on a hybrid model and in August, the superintendent stated in a letter to parents that "we know that we need to follow the face-covering guidance." Still unclear how strict the school district was on implementing that mask guidance, though Peyton's mother doesn't need the school's permission to beg her neighbors to wear a mask and potentially save a life.
"Wear a mask when you're in public, wash your hands, and know that COVID is real," Peyton's mom told KMOV.
Peyton's death didn't have to happen and his mom shouldn't be on the news begging people to wear a mask. How many deaths will it take for Americans to take this virus seriously?
In a GoFundMe created to cover his funeral and medical expenses, Peyton's family eulogized the young boy, calling him "a wonderful young man, who always had a smile to share with you."
"Peyton loved Christmas, video games, and enjoyed making YouTube videos, playing Pokemon GO, playing football and being with his family," the GoFundMe said. "Peyton, buddy, you are forever in our hearts. We love you endlessly and we will never forget you."