Boy Finds Out He's Going To Be A Big Brother In Viral Video That'll Make You Sob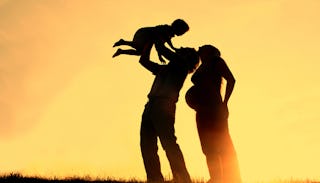 Image via Shutterstock
A little boy in Ireland got the shock of his life when his mom told him he was going to be a big brother. With so many stories like this circulating the internet, it's hard for one to stand out, but this is truly something special. His reaction, captured in a video that quickly went viral, is the sweetest thing you'll see today.
Teresa Dooley posted the video to Facebook last week with six-year-old son Jake's adorable response to the news that he's about to have a sibling. It quickly made the rounds and is now at almost 500,000 views. As Jake's dad filmed the video, his mom was handing him flashcards that read, "I know you have been wishing and praying for me for a long time now. I'm sorry I took so long to get here, but I am here now — look at your t-shirt." Take a look at this and see if you can stop the tears from coming:
His excitement and the fact that he cried are probably not the reactions most boys his age would have. It seems he's been eagerly awaiting this announcement for so long and was overwhelmed with joy when it finally came. Watching him happily put on his new "big brother" t-shirt while wiping his eyes made me tear up, and I'm not an easy crier. What a precious boy, who will undoubtedly make a wonderful big brother.
Having the chance to make your child this happy is something every parent hopes for. I only have two kids and they're 20 months apart, so I've never gotten to shock either of them with the news that they're getting a new sibling. After an early miscarriage last year, one of the things that kept my sorrow fresh for months was sadness from missing out on that moment of making my children so excited by telling them they're getting a baby brother or sister. It's an incredible privilege to be the bearer of that news and an undeniably special thing to share with them.
It's fantastic that Jake's parents will have this video to cherish forever and someday, show to Jake's little brother or sister so they can see how loved they were by their big brother from the very first moment. It's also sweet that so many people around the world can share in his jubilation and feel that happiness right along with him. Sometimes, the internet can be pretty damn magical. This is definitely one of those times.
This article was originally published on