Incredible 8-Year-Old Grows Out His Hair For 2 Years To Donate It To A Child In Need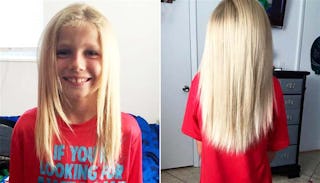 When Christian McPhilamy of Melbourne, Florida was just six years old, he saw a St. Jude's commercial. For the first time, he noticed young cancer patients who had lost their hair.
He and his mother, Deeanna Thomas, had a nightly ritual of taking an iPad to bed and looking up things that interested Christian. He usually looked up things like animals, but the night after he saw the commercial he decided to look up St. Jude's. A hair donation ad popped up, and he asked his mom what it meant. When she explained to him that people donate their locks to those who have lost their own to cancer treatments, he declared, "I want to do that." Thomas told Today Moms, " I was blown away… usually when Christian sets his mind to something, he pretty much goes with it. He doesn't let anything falter his goals. I was pretty confident that he was actually going to follow through with it."
She was right. Most of us know how the intentions of a six-year-old work: they get captivated by something for a few days, then on to the next. Not Christian. He committed to growing his hair out, and stuck to that commitment for two years.
He had a buzzcut when he started, but two years later he had some long, glorious locks. He reached his goal of donating over 10 inches in four ponytails. He donated to the "Children with Hair Loss" foundation. His mother says on her Facebook page that he has " endured an awful lot of criticism, and yes even bullying, throughout this time." Some kids teased him for "looking like a girl," and coaches and family friends told him to cut it — some even offering him money. But his mom says he "never once strayed from his goal and always took the time to educate others on why he made the choice to grow his hair." Thomas says she got used to hearing, "your daughters are so pretty!"
This little boy is such an inspiration. He's a reminder that generosity doesn't always have to equal "money." He gave what he could — wrapped up in dedication and intent. A six-year-old having that kind of drive and generous will? His parents should be very proud.
Related post: Gang Of Fifth Grade Boys Befriends Bullied Student
This article was originally published on