Try Not To Cry Watching This 8-Year-Old Help An Elderly Woman Up The Stairs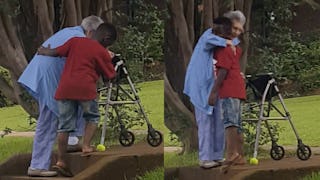 Image via Riley Duncan / Facebook
Video of the 8-year-old's act of kindness quickly went viral
For all the complaining people seem to do about the youths, kids these days really are great. Their constant connectedness to the world through technology has clearly made them better, more empathetic people than any of us were at their age. Just look around; there's plenty of proof.
Like this now-viral video of an eight-year-old boy who literally stopped traffic so he could jump out of his mom's car and help an elderly woman up some stairs.
The 8-year-old in question is Maurice Adams, who told his local news station, WGXA, he was driving with his mom when he saw the woman struggling to get up the stairs with her walker. It was a no-brainer for Adams to ask his mom to pull over.
"She was struggling so I decided to help her," Adams explained. His mom, Contricia Hill, added, "He asked, 'Can I go out there and help her up the steps?'"
What Adams didn't know was that he was being filmed as he gently and patiently helped the woman. It was a neighbor, Riley Duncan, who captured the video and then posted it to a local Facebook group. It's now been shared tens of thousands of times.
"I'm like, 'Wow, he jumped out to help that elderly lady.' I was so proud and it made me feel so good and I started crying," Duncan told WGXA. "With tears I started recording and it was just so amazing."
Since a good deed like that deserves a reward, Duncan also told news outlets he plans to find Adams so he can thank him in person and give him $100. That's so sweet, though it's clear that kid doesn't need money to encourage him to do things to make the world a better place. The kids are seriously going to set this world right.
In the video, you can see the old woman hug Adams and say something into his ear after he helps her up all the stairs, right before he turns and bounces back down them to jump back into his mom's car. So what did she have to say?
"She told him that he's special," Adams' mom said.
We couldn't agree more.