7-Year-Old Boy Killed By Hit-And-Run Driver While Waiting For School Bus
by Cassandra Stone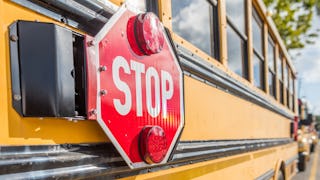 Image via Getty/CHUYN
This is the latest in a string of school bus stop-related fatalities
A 7-year-old boy in Pennsylvania was waiting at his school bus stop this morning when he was struck and killed by a hit-and-run driver. This is just the latest tragic incident in a string of similar incidents of children getting seriously injured or killed at school bus stops.
The Pennsylvania incident is especially horrifying, as the driver ran off and left the child to die on the side of the road. The second-grade boy was later found dead by a school bus driver, who called 911 immediately. The local police department is questioning several drivers to try and determine who hit and killed him.
Earlier this week, three siblings were struck and killed in Indiana while boarding their school bus after a driver in a pick-up truck failed to obey traffic laws and stop behind the bus. A nine-year-old girl and her six-year-old twin brothers lost their lives because of one reckless driver.
The driver was arrested and later charged with three counts of reckless homicide and one misdemeanor count of disregarding a stop sign and causing injury.
On Wednesday, a 9-year-old boy in Mississippi was killed as he crossed a highway to catch his school bus. The driver who struck him was arrested and charged with one count of aggravated assault.
This morning in Tampa, three kids and two adults were hit by a car at another school bus stop. All five people were transported to local hospitals and one child is in critical condition, according to WFLA News.
In each of these incidents, the buses were properly stopped at the time. Which means the fault lies directly on impatient, reckless drivers who can't be bothered to either pay attention or pause for a handful of seconds to obey traffic laws that exist to keep everyone safe.
Each of the 50 states requires drivers to stop when a school bus displays its flashing red lights, but these laws are violated regularly. A 2014 survey conducted by the National Association of State Directors of Pupil Transportation Services surveyed 97,000 school bus drivers across the country who reported more than 75,000 drivers illegally drove past school buses in the act of dropping off and picking up children in a single day.
A SINGLE DAY.
Throughout the average 180-day school year, that means over 13 million violations by private motorists occur annually.
The National Highway Traffic Safety Administration knows that finding a solution to this massive, life-threatening issue isn't an easy task. This means motorists, school bus drivers, law enforcement officers, prosecutors, and local judicial officials all have to work together to ensure the laws are obeyed and enforced.
But really what it all boils down to is this: when you're driving, pay attention. When you're near a school bus, pay attention. When a school bus is slowing down to stop and pulls out the stop-arm as well as flashing lights — stop your f*cking car.
It takes a handful of seconds out of your day to stop for a school bus. Our children's lives are worth so much more than that.
This article was originally published on