Child Knocks Over $132,000 Statue, Parents Told To Pay Up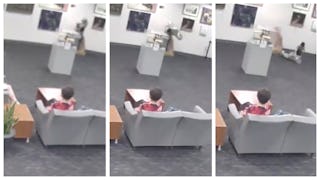 Image via ABC News
The statue, which luckily did not harm the child, was damaged beyond repair
Any parent knows it's impossible to keep our eyes on our kids every second of every day. Of course we want to keep them safe and out of harm's way, but kids are kids and tend to wander off in the name of exploration (and shenanigans, let's be honest). But one family may be paying a hefty price when their son wandered off and knocked over a statue — to the tune of $132,000.
The five-year-old boy's mother, Sarah Goodman, told KSHB the incident happened inside the Tomahawk Ridge Community Center in Overland Park, Kansas while they were attending a wedding reception. The whole thing was caught on surveillance video and it looks as though he tries to hug the statue, then seconds later it falls over, taking the child with it.
"We heard a bunch of commotion and I thought, 'Who's yelling at my son?'" Goodman said. "This glass mosaic torso is laying on the ground and someone is following me around demanding my personal information." According to ABC News, days later the Goodman's got a letter from an insurance company saying they were responsible for the statue, which was irreparable.
"You're responsible for the supervision of a minor child… your failure to monitor could be considered negligent," the insurance letter read in part.
Of course parents are responsible for their kids actions but accidents happen; that's why they're called accidents. "My children are well supervised but all people get distracted," Goodman said. What's more, according to the boy's mom, no one even asked if he was ok. "He's honestly been having bad dreams every night," she said. "None of these people have ever once said, 'How is Troy? How is your son holding up? Is his face okay?'"
Sean Reilly, a spokesperson for the City of Overland Park said the statue was loaned to the community center and that someone has to be responsible for the damage caused. "That's public money," Reilly said. "We are responsible to protect the public investment."
But, here's the thing. If you have an expensive piece of art you're responsible for safe keeping, why would you display it without a rope or something sectioning it off from the public? It's clear from the video it's fairly easy to knock over and knowing you have both adults and children who will visit, it seems like some responsibility lies with them to protect their investment.
"It's in the main walkway. Not a separate room. No plexiglass. Not protected. Not held down," Goodman said. "There was no border around it. There wasn't even a sign around it that said, 'Do not touch.'"
Sean Reilly, a spokesperson for the City of Overland Park claims the sculpture was never meant to be touched, and said there's a "societal responsibility that you may not interact with it if it's not designed for interaction."