Boy Apologizes To Forest, Puts Us All To Shame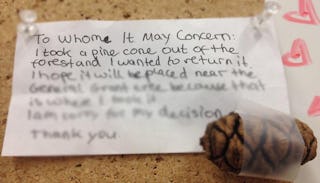 Boy sends thoughtful apology after taking a pine cone from a national park
Raising caring, thoughtful, and responsible human beings isn't an easy job, but one little boy just proved his parents are doing something right after he sent an adorable letter of apology for taking a pine cone home from a national park.
The Sequoia and Kings Canyon National Park in Three Rivers, California, recently shared the boy's adorable letter on their Facebook page, where it's quickly gone viral. According to their post, it's actually against the rules for visitors to take things home from the park, as the park is a "tough environment" and "the animals need their nibbles and the area needs the seeds and vegetation." That's why this little guy felt so remorseful and decided to try to make amends.
"To Whom It May Concern," the letter started out. "I took a pine cone out of the forest and I wanted to return it. I hope it will be placed near the General Grant tree because that is where I took it. I am sorry for my decision. Thank you."
The boy wrote his note on a slip of paper and attached the pine cone — which the park notes is actually a "giant sequoia cone" — with a piece of clear tape in an effort to rectify his mistake. Since it was shared on the park's Facebook page, it's been liked more than 6,000 times and hundreds have left comments complimenting the kid's parents and his honesty in writing the note. More than anything, though, people are impressed that the kid has such a clear understanding of how important it is to preserve nature.
Wrote one, "I teach for a wildlife rescue and I volunteer for our local Cal Park. This is exactly why I teach! So that more kids realize what a gift we have in nature and that they have to protect and preserve it all!"
Another commented, "That's just good parenting right there. As a camper and hiker, most people just assume it's cool to take whatever they come across. The best thing you can take out of the forest is an empty beer can or Cheetos bag. Kudos to the parents."
It's natural for kids to have the urge to pick up rocks and pine cones, but it's also so important that they respect the landscape around them. This little boy definitely took the park's message of conservation and preservation seriously, and it's adorable that he went to so much trouble to make up for what he did. It's unclear if he wrote the letter of his own accord or if his parents coerced him, but either way I'm sure the whole thing was a valuable learning experience, and it just proves what responsible, thoughtful people are children are capable of being.
This article was originally published on