Little Boy Saves Cousin's Life By Donating Bone Marrow And The Internet Is Crying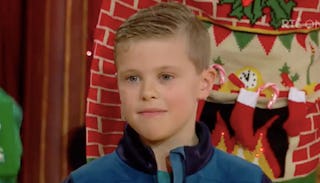 Image via Twitter/RTE Late Late Show
A little boy saved his cousin's life by donating bone marrow and the video will make you sob
Not all superheroes wear capes. Sometimes they're an 8-year-old Irish boy who donated his bone marrow to help save his 6-year-old cousin's life. The internet is sobbing very, very hard over this story and *warning* so will you.
Last year, Grace Lowe needed to undergo bone marrow treatment for leukemia. Her cousin Scott decided to donate his own bone marrow and went through a scary, difficult transplant in order to keep Grace alive. "They're double cousins, and Grace's other siblings weren't a match," Scott's mom told The Late Late Show during a recent segment. Grace's mom added: "They're best friends."
When asked why he decided to donate his bone marrow, Scott very sweetly responded: "I wanted to save her life."
So many tears. A clip of the interview was posted to Twitter and you can see both Scott and Grace walking onto the stage, holding hands, at 1:53.
Scott admitted that the whole transplant process was nerve-wracking. "I was scared going in for an operation," he said. "…I felt really happy (that I saved her life)."
Thankfully, Grace is doing better and started back at school in November. The internet was crying and applauding and feeling all the good feelings about this whole story.
The Late Late Show celebrated Scott's bravery by introducing him to Ireland rugby players Rob Kearney, Tadhg Furlong and Sean O'Brien (the young boy is a fan and arrived at the show wearing a rugby jacket). "This is a real life hero right here," Kearney told Scott. "What you have done, you are the real hero. We are really proud of you."
They gave Scott a signed jersey from the entire team and an invitation to come meet the rest of the players during one of their trainings.
This story is yet another reminder of how important and life-saving bone marrow transplants can be. In November, a heartbreaking story came out about an expectant mother named Susie Rabaca who was diagnosed with leukemia and desperately searching for a bone marrow donor.
"There are 19 million people on the Be The Match registry. None are a match for Susie," Amy Alegi, Vice President, Registry Growth & Development of Be The Match, told Scary Mommy. "We need to spark a movement for more young, diverse men and women to join the registry. The need is urgent so we can try to save this young mother's life."
If you live in the United States, you can head to Be The Match to learn more about donating.