Boy Scouts To Let Girls Join And Girl Scouts Aren't Happy About It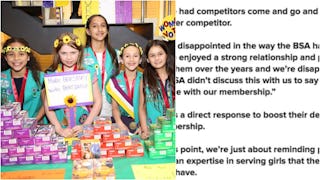 Image via Walter McBride/Getty Images
'Stay focused on serving the 90 percent of American boys not currently participating in Boy Scouts'
On International Day of the Girl, the Boy Scouts of America announced that it would allow girls to join its organization. And while some see the decision as a sign of progress, the Girl Scouts of the USA aren't pleased.
Girl Scouts President Kathy Hopinkah Hannan wrote a strongly worded letter to BSA in August that said in part: "We were disappointed in the lack of transparency as we learned that you are surreptitiously testing the appeal of a girls' offering to millennial parents." She went on to say: "Furthermore, it is inherently dishonest to claim to be a single gender organization while simultaneously endeavoring upon a co-ed model." While they mention "millennial parents," a lot of conservatives are pissed off and blaming "liberals."
Some think the lack of boys signing up to be a part of Boy Scouts is the real reason behind the dramatic move toward inclusivity.
Which is exactly the point the Girl Scouts made in the letter a few months back. "It has been well documented that BSA is facing declining membership and other challenges," Hannan wrote in the letter that was obtained by BuzzFeed News. "Rather than seeking to fundamentally transform BSA into a co-ed program, we believe strongly that Boy Scouts should instead take steps to ensure that they are expanding the scope of their programming to all boys, including those who BSA has historically underserved and underrepresented, such as African American and Latino boys."
In their defense the BSA said they're just giving kids and parents what they've been asking for: access to the Boy Scouts. In response to the news on Wednesday, the Girl Scouts wrote a blog posted titled "Girl Scouts Are the Girl Leadership Experts." In addition to reminding everyone that they've been serving girls for more than 100 years, the organization also shared: "The benefit of the single-gender environment has been well-documented by educators, scholars, other girl- and youth-serving organizations, and Girl Scouts and their families. Girl Scouts offers a one-of-a-kind experience for girls with a program tailored specifically to their unique developmental needs."
It's a good point. At this time the Boy Scouts are just letting girls in on all the fun the boys' programs provide. The organization did say that it's working on a new program for older girls. "Using the same curriculum as the Boy Scouts program, the organization will also deliver a program for older girls, which will be announced in 2018 and projected to be available in 2019, that will enable them to earn the Eagle Scout rank," their statement read.
We think this retired teacher who tweeted about the change probably has the best solution: Since both programs focus on different things offer each club as an option to all kids. Is it really going to be an issue if our kids learn more valuable skills? Probably not.