Boy Scouts Send Outrageously Shamey Letter To Breastfeeding Mom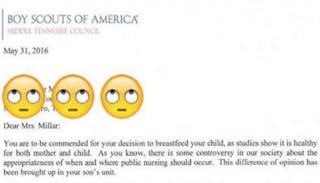 Mom outraged by letter from Boy Scouts leader shaming her for breastfeeding
When you think of Boy Scouts, what comes to mind? Camping trips, merit badges — probably not breastfeeding controversies, right? Well, hold on to your carabiners because moms are outraged after a Tennessee woman says she was shamed for breastfeeding at her son's Boy Scout meeting.
In a post on the Facebook page Breastfeeding Mama Talk, Jasmine Millar says she was at a Boy Scout meeting with her son, who's on the autism spectrum, and her other two children, when her one-year-old did what babies do best: he got hungry. Millar started nursing him in the back of the room "using the two-shirt method which covers the top and bottom of the breast."
Everything went smoothly, but afterwards, Millar says she was confronted by a female scout leader. "I was told several times how inappropriate I was being," she recalled. "I was also told that other parents would be upset with me and would feel it was inappropriate too. I was told I needed to leave or cover completely with a blanket from now on… I was so shocked and embarrassed… I ended up leaving in tears and continued to cry the remainder of the night."
Millar, who says she's struggled to breastfeed as a survivor of childhood sexual abuse, felt utterly disgusted and shamed by what happened. She contacted the council for her area, and after determining she was "within her legal rights" to breastfeed, they told her they'd send out an official letter. She expected it to be a letter educating leaders on her right to feed. Instead she got this from Vance Lackey, the Director of Field Services for the Middle Tennessee Council:
"While you absolutely have the legal right to breastfeed in public and we support that right, there are those in your Troop who feel uncomfortable," the letter reads. "When you choose to nurse your baby uncovered and/or in the same room as the Scouts, it causes disruption. Some young boys do not understand about breastfeeding and have families who may not be ready to have this discussion."
Um, what? Not ready for this discussion? Are we talking about breastfeeding here or hardcore pornography? This isn't some kind of dirty sex act; it's just how babies eat.
"Might you consider wearing a cover or stepping into a different room from the Scouts when breastfeeding your infant child?" the letter continues. "Perhaps this concession to those with different views can get this unit back on track. Parents respecting one another's personal boundaries is a good lesson for boys to observe."
Wow.
Since the letter was posted, it's been shared almost 3,000 times and dozens have left comments on the Boy Scouts Of America Facebook page, demanding education for everyone involved. So far, Fox17 reports the Boy Scouts organization has only released a statement saying they're "continuing to evaluate" the situation, and "the BSA does not have an official policy or a position on this matter."
Larry Brown, the executive director for the Middle Tennessee Council, tells Forbes he didn't intend for the letter to cause a controversy. "In looking at the letter candidly, it does isolate her," he said. "She can breastfeed pretty much anywhere she wants to – that's fully within her rights – we just want to hopefully get people to talk and work things out."
Clearly, Brown is at least trying to do the right thing. He plans to meet with both Millar and the troop leaders, and even says he'll apologize for how the letter came off. Hopefully, the whole fiasco will inspire the Boy Scouts organization to release a bolder statement and actually put some policies in place that protect breastfeeding moms. Allowing moms to nurse comfortably and with the full support of those around them is definitely a "good lesson for boys to observe." Let's hope the Scouts do the right thing and earn themselves a little merit badge for normalizing breastfeeding, covered or not.
This article was originally published on