Thanks To 8-Year-Old, Boy Scouts Will Now Allow Transgender Members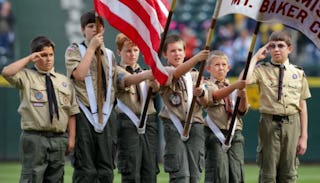 Via Otto Greule Jr / Stringer
In a surprise decision, Boy Scouts will now accept transgender members
Joe Maldonado is only 8 years old, and he's already a hero for boys all across the country.
Maldonado, a Boy Scout in Seacaucus, New Jersey, is the trailblazer responsible for the organization's decision, announced Monday, to accept members based on the gender with which they identify — not the gender that's listed on their birth certificates.
"I want them to be comfortable with how I am, what my destiny is, and what my identity is," Maldonado told reporters after the decision was made.
Maldonado was asked by parents and leaders to leave his Cub Scout troop last summer after they found out he was born a girl. With the help of his parents, Maldonado filed a legal complaint against the 107-year-old Boy Scouts of America, and, proving it is living in 2017 with the rest of us, the organization pledged to include any member that identifies as a boy. The decision is the official end of the organization's previous policy, which was to only accept members who are listed as boys on their birth certificates.
"It made me mad," Maldonado told the Record newspaper in New Jersey. "I had a sad face, but I wasn't crying. I'm way more angry than sad. My identity is a boy. If I was them, I would let every person in the world go in. It's right to do."
Maldonado told the New York Daily News that he was happy the Boy Scouts reversed their stance so quickly.
"Once a mistake happens it becomes a habit, but you don't want that to happen," he said.
Chief Scout Executive Michael Surbaugh made the announcement in a video online, saying, "Communities and state laws are now interpreting gender identity differently than society did in the past and these new laws vary widely from state to state."
He continued, "Starting today we will accept registration in our Scouting programs based on the gender identity provided on an individual's application."
Surbaugh also addressed the obvious issue with the new policy: Some places are likely to all but ignore the order, and participating in the Boy Scouts will still face challenges finding acceptance in their troops.
"We will also continue to work with families to find Scouting units that are the best fit for their children," Surbaugh said.