2-Year-Old Dragged Into Water By An Alligator At Disney Resort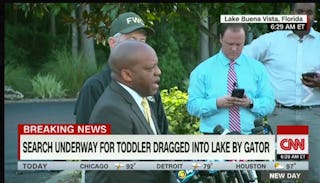 Two-year-old boy dragged into water by alligator at Disney resort in Orlando
There's been no shortage of tragedy in the news this week, and this morning's headlines unfortunately brought even more heartache. A family's Disney vacation has turned into every parent's worst nightmare after their two-year-old was dragged into a lake at their resort by an alligator.
As WESH reports, the Nebraska boy, his parents, and his four-year-old sister were wading in about a foot of water at the side of the Seven Seas Lagoon outside Disney's Grand Floridian Resort & Spa around 9:30 p.m., when an alligator unexpectedly emerged and dragged the little boy away. Orange County Sheriff Jerry Demings told press the boy's father tried unsuccessfully to fight the gator off, and a search has been underway ever since.
About 50 people, including two marine units, are participating in the search, which authorities say is now considered a recovery effort. The Florida Fish and Wildlife Conservation Commission is on site with an alligator trapper, and sonar equipment is being used to scan the lake. Authorities say there are no previous reports of alligator attacks at the location, but "no swimming" signs are posted as a precaution. The signs don't mention anything about gators in the area.
At an early morning press conference, Jeff Williamson, a spokesman for the Orange County Sheriff's Office, described the scene as "simply heartbreaking." Jacquee Wahler, vice president of the Walt Disney World Resort, told reporters, "Everyone here at Walt Disney World Resort is devastated by this tragic accident. Our thoughts are with the family and we are helping the family and doing everything we can to assist them."
Of course, the tone online was somewhat different, with dozens of heartless, sanctimonious assholes ready to pounce on the parents for not being able to predict a freak accident. The discussion on Facebook is overrun with comments like:
"I can't imagine the horror of watching your toddler being eaten by an alligator, but at the same time, I can't believe that people don't know that there are alligators in Florida. And I can't believe these 'parents' allowed their toddler to crawl around water at 9:30 at night. [sic]"
"I do feel very sad for the family and I am sure I am going to get s**t for this but 1) why was the 2yr old still up at 9:30?? I would think after a long, fun day they would have been fast asleep. 2) Disney had no swimming signs posted so why were they in the water at night? [sic]"
"Well if your that much of a moron to let your kid go swimming at 9pm in any freshwater in florida, you shouldn't be a parent, again absent minded humans, and now a bunch of gators murdered b/c of humans actions, what a shock, when are people going to wake up!"
Dozens of others echoed the same sentiments, and no doubt this is about turn into some sort of GorillaGate 2.0. But, I have to ask, what ever happened to having some compassion?
This entire family has been traumatized watching their baby get carried off by an alligator, and all people can do is call them names online, say their baby deserved to get taken by a wild animal, and refer to them as "parents" in quotation marks, as if a freak accident somehow undoes the love they have for their children and the horror of what they're enduring right now.
As much as we don't want to admit it, some tragedies and accidents simply can't be foreseen. Sometimes bad things happen to good people, and it's sad, and we should grieve with them rather than tear them to shreds. We accept preventable gun deaths every day in this country without changing a single thing, yet when genuine accidents happen we throw up our pitchforks and spurn people in their time of need looking for someone to blame. How is that okay?
Whatever the outcome of this terrible tragedy, this is a real family who just witnessed their baby in a situation most of us can't even fathom. As fellow parents and fellow human beings with functioning hearts and brains, we should stand behind them, hold them up, and hope like hell that they'll get through this. It could've happened to anyone, and hating on other parents won't keep our kids safe. Let's stop this culture of ridiculous parent shaming before it takes us all down.
Update: CNN confirms the boy sadly did not survive the attack, and his body has been recovered.
This article was originally published on