Stranger's Note To Mom Of Son With Autism Will Restore Your Faith In Humanity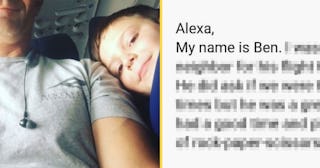 Alexa Bjornson/Facebook
He donated the money she sent in Landon's honor
Sending your child alone on a plane for the first time will send any parent's nerves into overdrive, but when your child has autism, it likely feels even more terrifying. One mom decided when her son went on his first plane ride to send a note for his seat mate and what she received back from him will melt your heart.
"Today my son took his first flight to Oregon to see his dad," mom Alexa Bjornson wrote on Facebook. "I sent Landon with a letter to give to whoever sat next to me saying he has high functioning autism so he might be nervous and ask you 'are we there yet' a lot."
She said she asked the stranger to please make him feel "safe and comfortable," and sent along $10 in the note for their trouble. What she received back from the man after their plane ride is proof there are so many good people in this world.
"My name is Ben. I was Landon's seat neighbor for his flight to Portland. He did ask if we were there yet several times but he was a great travel buddy," he wrote to Bjornson. "We had a good time and played a few rounds of rock-paper-scissors. He's a great kid and you're a lucky mom. I appreciate the $10 but it wasn't necessary. I donated it to Autism-Society.org in honor of Landon."
According to their website, the Autism Society promotes "individual choice and self-determination of individuals living with autism, aided by parental and guardian advocacy," and recognizes "a person living with autism can and should be able to maximize his/her quality of life and oppose any denial of their opportunities." They are a leading provider of information about autism, finance research, and spearhead legislation that protects those living with autism.
"I am so grateful to this individual, and that there are still kind people in the world who make a difference like I try myself to do as well," Bjornson wrote, sharing the note from Ben next to an adorable picture of the two on their flight. "Thank you so much Ben!!!!"
Of course, he could have just taken the money and sat next to Landon without acknowledging him during their travels. But to take the time to get to know him, play games with him, and make sure he felt comfortable traveling alone says a lot about him as a person. He may be a parent himself — maybe not — but he's a decent and kind human being and that's what really matters.
Bjornson tells Scary Mommy the family definitely plans on staying in touch with Ben and the pair have even planned to meet "for a date" before Landon comes home. Please, oh please, share more pictures of Landon and Ben as their friendship forms — we need more of this happy goodness in our lives.