5-Year-Old With Leukemia Proposes To His Favorite Nurse In Adorable Video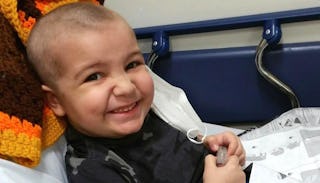 A little boy with leukemia proposed to his favorite nurse, and his mom captured the whole thing on video.
A charming five-year-old named Gideon has everyone talking this week after he decided to pop the question to his favorite nurse.
Gideon Robinson was diagnosed with acute lymphoblastic leukemia in November. Since then, he's been receiving treatment at Rady Children's Hospital in San Diego, where he's developed a special relationship with his favorite nurse. Their relationship is so special, in fact, that Gideon decided it was time to propose to her.
Nurse Sarah Richards — nicknamed "Tall Sarah" by Gideon — was one of the first nurses Gideon met after starting treatment, and she took care of him through much of his first hospital stay. His mom, Sosy Robinson, tells Buzzfeed it was inevitable that Richards became very special to their family. "The nurse that is teaching you how to keep your son alive becomes a very important person," she said.
Richards stops by to visit Gideon even when she's not assigned to him, often bringing him a Lego set to play with, since they're his favorite. She even has random dance parties with all the kids in the oncology ward that Gideon's mom says sometimes "turn into a mini flash mob with other patients, nurses, and parents joining in." It's not difficult to see why Gideon loves Tall Sarah so much, and that's apparently why he decided it was time to propose. In an adorable video shared on his Facebook page, Gideon pops the question to Richards in the middle of a hospital hallway.
In the video, Gideon first talks to his mom about his plan for the proposal, then it skips ahead to him getting down on one and asking Richards to marry him. He opens up a box to reveal a special "engagement" ring he made from pipe cleaners and a bead, then Richards tells him he can be her special "hospital husband" and everyone cheers. Since it was posted, the video has been shared over 2,000 times and received hundreds of supportive comments from people who are moved by Gideon's incredible spirit.
Gideon's mom tells Buzzfeed the proposal is emblematic of the many ways they try to keep their spirits up while Gideon battles his illness. The road they're on is not an easy one, but they try to fill their days with as much joy and laughter as possible. "We could easily cry and act like the world is over," she says, "or we can make the most of the cards we are dealt by creating beautiful moments and spreading the love."
The people involved in this story have such incredible attitudes, it's impossible not to be inspired by them. Gideon is a bold and bright little fighter, and Nurse Richards is a shining example of everything that makes nurses so wonderful. She goes out of her way to make kids feel special and excited about life during their most difficult hours. It's not surprising at all that Gideon and his family feel bonded to her, and it's so sweet that he gets the special honor of being her "hospital husband." We hope Gideon gets well soon so he and "Tall Sarah" can continue their unique friendship outside of the hospital too.
This article was originally published on