The First Of The Boys Trapped In Thailand Cave Are Being Rescued
by Thea Glassman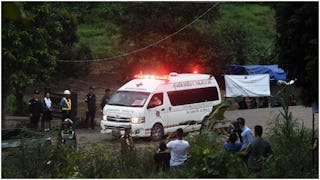 Image via LILLIAN SUWANRUMPHA/Getty
Rescue team has saved four of the boys trapped in Thailand cave
A rescue mission is underway in Thailand to free 12 boys and one man from a cave. So far, at least four of the children have been brought safely to dry land. The rest of the group is waiting as expert divers from across the world make their way to the cave, in an operation that's been deemed "D-Day."
On Sunday evening, Narongsak Osatanakorn, the head of the rescue coordination committee, announced that four of the boys had been saved and transported directly to a hospital. "Our operation was more successful than we expected," he said, adding that he met the children and their health is "perfect."
Now, the rescue team has to wait another 10 hours to prepare for the next stage of their mission. There are 90 divers total and the length between the cave and dry land is three miles long – a tricky journey for some of the children who struggle with swimming. The rescuers are collaborating with doctors to determine which of the kids should be taken out of the cave first, based on their individual health needs.
"There's no time limit on the operation," Osatanakorn noted. "It depends on the weather. It depends on the water levels. If something changes we'll stop. But I expect the operation to finish in the next couple of days."
The group has been stuck in the cave for close to two weeks, which has to feel more like a lifetime for both them and their loved ones. They were found after ten days, and divers have been able to supply them with food, oxygen, and medical help. Letters have also been exchanged between themselves and their families. In one note, Chanin Wiboonrungrueng, 12, reassured his parents that everything was okay.
"I'm fine," he wrote. "Please tell Yod to take me out to a fried chicken shop."
The mother of 14-year-old Nattawut Takamsai penned a letter to the whole group, sending words of hope and concern.
"To all the kids," she wrote. "We are not mad at you at all. Do take good care of yourself. Don't forget to cover yourself with blankets as the weather is cold. We're worried. You will come out soon."