Yes, Great Bras For Big Boobs Exist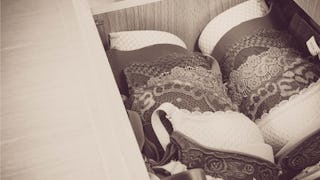 Image via Shutterstock
Great bras for big boobs exist… but they ain't cheap
If you're anything like me, you had your first kid and just kept shoving your now bigger boobs into the same bras you'd been wearing for years. I can say with some amount of certainty that there were about three of four years when I had absolutely no idea what my bra size was. At all.
Lucky for me, I happened to move to a new town with the best store ever: it's half toys for kids, the other half women's clothes, shoes, and accessories. On the weekend, there's something called a "bra fit expert." Did you even know that was a thing?
This unicorn/bra fit expert's name was Christina. She followed me into the dressing room, pulled out her tape measure and made some magic happen. Then she told me my bra size was a 38F, and I almost fell over.
I didn't even know F was a size. Seriously. No idea.
It turns out that I'm actually different sizes, depending on the bra shape and make. So in one bra I'm a 38DD, and in another bra I'm a 38F. Huh. Who knew? I bought three amazing bras and my boobs hadn't looked that great in years. Then we started chatting and laughing and went out for drinks, as one does with their new bra fit expert.
Christina caught wind of the article we wrote a few weeks ago, Million Dollar Idea: A Bra For Big Boobs That Doesn't Completely Suck, and contacted me so I could give you all some recommendations from a real bra fit EXPERT. And pro-tip: if you have no idea what your bra size is, find one of these experts in your town. It will really change your life.
Wacoal "Lace Affair" Band sizes 32-38, cup sizes B-G, $56.00
I own this bra, so I can attest to its comfort. I tried to find a picture of someone with big boobs wearing it, but bra companies don't seem to want to show us all what we'll look like in these. I'd take a photo of my own boobs in it, but I am not that confident.
Natori Pure Lux, Band sizes 32-38, cup sizes B-G, $72.00
This one is pure comfort, and the straps. You've gotta love the straps.
Natori Pure Allure Full Figure Contour Bra Band sizes 30-44, cup sizes B-G, $60.00
I also own this one. This one will make your boobs look fantastic. It is one of those bras where you are definitely aware of the underwire by the end of the day, so it's more of an occasion bra than an every day one. But did I mention it makes your boobs look fantastic?
Wacoal Retro Chic Underwire Bra, Band sizes 32-46, cup sizes C-I, $59.00
Anyone who has owned a Wacoal bra can attest to how awesome they are. Buy one, and you too will be one of those people who brags about your bra.
Fitfully Yours Nicole Sheer Lace Bra, Band sizes 32-44, cup sizes C-J, $69.00
This one is really pretty, and the sheer top and underlined bottom of the cup lets you have both the cute style of the sheer mesh and the coverage you need for thinner shirts. Translation: your nipples are covered.
As you can see, good bras for big boobs are freaking expensive. It's BS that we have to spend this much money to get something decent to hold our boobs in place comfortably. If anyone has any budget recommendations, leave them in the comments.
This post contains affiliate links, which means we receive a small portion of the sale if you make a purchase using these links.
This article was originally published on