Brad Paisley And Wife Kimberly Opening Grocery Store Where Everything Is Free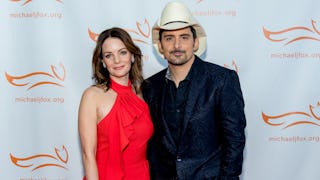 Image via Roy Rochlin/FilmMagic
'The Store' will offer free, fresh produce as well as non-perishable items for families in need
Country singer Brad Paisley and his wife, actress Kimberly Williams-Paisley, are giving back to their Nashville community by opening up a grocery store for families in need — and everything in it is free.
The Paisleys are partnering with Belmont University, Brad Paisley's alma mater, to open "The Store," a food bank designed and set up like a grocery store. Unlike regular food banks, The Store will serve both fresh produce and non-perishable groceries for people in need for one year.
"This is a grocery store with dignity for people who have fallen on hard times," Paisley tells the Tennessean. "All of us are one unforeseen disaster away from rock bottom. It's nice to think about a place where when that happens to someone, they can use it to get back on their feet."
The Paisleys say the inspiration behind The Store came from a visit to a similar organization called The Unity Shoppe in California. "I remember thinking, 'Why isn't this everywhere?'" Paisley says. Williams-Paisley says she hopes The Store is a "temporary Band-Aid on the road to self-sufficiency" and feels it'll be a very useful option for people in Nashville.
In the United States, it's difficult for low-income people to afford to eat a healthy diet. According to the National Institute of Health, food prices pose a significant barrier for many consumers who are trying to balance good nutrition with affordability. Many families on a limited budget for food tend to shift away from high-quality proteins, whole grains, and vegetables and fruit in favor of low-cost items like starches, added sugars, and vegetable fats in non-perishable form.
All the more reason more places with options like The Store should exist — poor people deserve to eat healthy, too. They deserve access to quality foods. The Store will serve up more than just groceries—during the holiday they plan to set up a toy aisle and will also provide on-the-job training year round.
The Paisleys made an initial donation to kick off their goal of raising $500,000 before breaking ground, and they have a $1.2 million target for total construction. Visit thestore.org to donate.