Brad Paisley And Wife Kimberly Break Ground On Free Grocery Store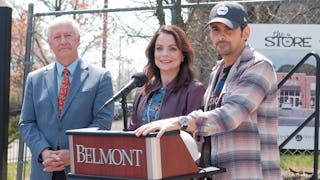 Image via Jason Kempin/Getty Images
"The Store" is Brad Paisley and Kimberly Williams-Paisley's free grocery store in Nashville that will help families struggling with food insecurity
Last fall, country star Brad Paisley and his wife actress Kimberly Williams-Paisley, announced the wonderful news that they planned on opening "The Store," a place where families in need could come to get groceries without having to pay a dime. Now, the couple's broken ground on the store, and they're more determined than ever in realizing their goal of helping ease food insecurity in an area that means something to Paisley personally.
The Store will be located in Nashville, Tennessee and is part of a partnership with Paisley's alma mater Belmont University. "This is a grocery store with dignity for people who have fallen on hard times," Paisley tells the Tennessean. "All of us are one unforeseen disaster away from rock bottom. It's nice to think about a place where when that happens to someone, they can use it to get back on their feet."
The couple got the idea for The Store while visiting a similar organization called The Unity Shoppe in California. "I remember thinking, 'Why isn't this everywhere?'" Paisley says.
"Hunger and food insecurity is a real issue in Nashville," said Williams-Paisley. "One in seven people deal with food insecurity. That means they don't know where their next meal is coming from. And it's even worse for kids, one in five children."
The Store won't be like a regular food pantry — they will be serving produce and non-perishables to those who come through their doors. Fruits, vegetables, cereal, and other items will all be available free of cost.
Belmont students and other volunteers will help customers with their transactions, scanning each item, but no one will have to pay for the The Store's wares. "We really want to get people before this is a major crisis," Williams-Paisley said. "We want to help people in this gap where they are trying to get back on their feet." Even the mechanical horse that will be installed outside the story will be free for kids to ride. "The kids should not know what their parent is going through," Paisley said. "That's not stress a child needs."
The store is going up on the Belmont campus next to the school's Ministry Center, which will give those in need legal aid and healthcare. That set-up is by design as Paisley explains that it "takes away the sting of embarrassment for a parent who maybe feels that way because they can't feed their kid."
Their ultimate goal, along with feeding families, is giving them some agency in the process. "We love this idea of a free grocery store where people can come in and make choices for their families and kids can see their parents in a position of power making choices for the family," says Williams-Paisley.
Their other goal? To feed 3,000 people each year. If you'd like to help out, you can donate here.