Brad Pitt Just Bid A Crap-Ton Of Money To Watch GOT With Emilia Clarke
by Julie Scagell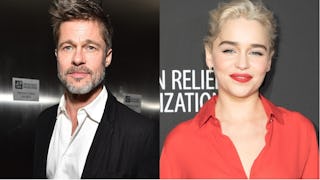 Image via Getty/Kevin Mazur/Greg Doherty
He ultimately didn't win but bid big bucks for the chance
Sean Penn's annual Haiti Rising gala had no shortage of celebrity attendees or money being raised — a whooping $37 million was collected — a record for the charity. One star outbidding everyone in the room (including himself ) was none other than Brad Pitt, who was willing to pay a pretty penny for the pleasure of watching an episode of Game of Thrones with one of its biggest stars.
The 7th annual auction put on by the J/P Haitian Relief Organization is always a star-studded event. This year was no exception with attendees like Edward Norton, Leonardo DiCaprio, and Courtney Love. During the night's charity auction event one of the experiences guests could bid on was the opportunity to watch an episode of Game of Thrones with none other than Daenerys Targaryen.
Pitt was photographed raising his paddle high in the air when that one went up for auction and placed the opening bid at $80,000. Then he apparently outbid himself, going up to $90,000. Then fellow GOT'er Kit Harington "offered to sit in on the episode viewing," according to Variety and Pitt doubled down again, raising his own bid to $120,000.
Apparently Jon Snow does know something — how to raise some serious cash money for a good cause.
According to People, the auctioneer told the animated crowd, "Just because it's Brad Pitt doesn't mean that you can't bid again." Unfortunately for Pitt, someone listened to her advice. A husband and wife duo outbid him, paying a whopping $160,000 for the privilege of watching the show with the the the Mother of Dragons and Harington.
Seems a small price to pay for spending time in such amazing company (I say while sitting on my couch clipping coupons).
Unfortunately for all of us Game of Thrones fans, HBO confirmed we will all be waiting awhile for the final season of the hit series — 2019 to be exact. Oh, the unfairness of it all.
Penn founded J/P HRO after the 2010 earthquake ravaged Haiti and he and his team have worked tirelessly since to provide emergency medical care, food, build shelter, and offer other aid to the nation. The region also suffered another disaster last year when Hurricane Matthew devastated the southern half of the country.
Pitt seemed to take his loss in stride at the gala, joking with other guests and enjoying the evening. You can't blame him for trying.