Brad Pitt Wins Best Supporting Actor Oscar And His Speech Immediately Goes Viral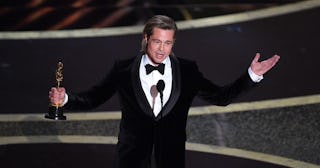 Kevin Winter/ Getty
Brad Pitt doesn't hold back during his Oscar speech
The Oscars mostly about the fashion — let's be honest. But Once Upon a Time in Hollywood Oscar nominee Brad Pitt is finally an award winner for his acting — and his speech may have just made him even more beloved by his fans.
Pitt's starred in many iconic films and his career has spanned decades — and yet — he's never won an Academy Award for his acting. Tonight's 92nd Academy Awards show changed that. Pitt won the Best Supporting Actor for Once Upon a Time in Hollywood, and his speech deserves the same attention.
Pitt didn't mince words when he got on stage. "They told me I only have 45 seconds up here," he said. "Which is 45 seconds more than the senate gave John Bolton this week. I'm thinking maybe Quentin does a movie about it and in the end the adults do the right thing." We see you.
He went on to thank those that made his performance memorable in the film, including his co-star Leonardo Dicaprio. "Leo, I'll ride on your coattails any day, man," he said. "The view's fantastic." Indeed, it is.
Pitt has been Oscar-nominated for playing a role in 12 Monkeys, a man who aged backward in The Curious Case of Benjamin Button, and an iconic baseball general manager in Moneyball. But it was his role in Once Upon a Time in Hollywood that finally put him on the map as an actor. (I'm kidding.)
In Quentin Tarantino's historical fable, Pitt's Cliff Booth plays a stunt double for movie star Rick Dalton (DiCaprio) but is equal parts his BFF, driver, and all-around fixer of problems. Obviously, it's glorious to see him shirtless on a roof under the hot, hot sun but it's his performance that truly stuns.
He gave thanks for director Quentin Tarantino, who also directed him in "Inglourious Basterds," saying basically everything he touches turns to gold because, well, it does.
In an interview with The Times' Glenn Whipp, Pitt said of "Hollywood," "We're all just passing through, doing the best we can in these movies. But this one, I would say it's one of the few times where the experience is as special and unique as the final film. Like our life is as important as the final product. For me, that's, 'We're livin.'"
His speech ended with some relevant observations about Hollywood, saying in part, "Once Upon A Time in Hollywood, ain't that the truth?" But it was the end of his acceptance speech where he dedicated his win to his kids whom he shares with ex-wife Angelina Jolie that pulled at All Of The Heartstrings. "This is for my kids, who color everything I do. I adore you," he said.
This article was originally published on