The Brady Bunch House Is For Sale And It's Making Us Nostalgic AF
by Christina Marfice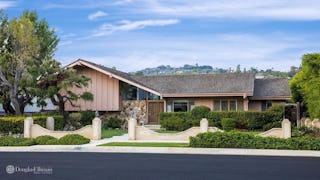 Image via Zillow
Got $2 million and a bunch of nostalgia? Time to call your real estate agent.
Want to own an actual piece of TV history? And exercise all your 1970s nostalgia urges while you're at it? You're in luck, because the Brady Bunch house is officially on the market.
Ta-da.
Yep, the actual house from The Brady Bunch. You can now own it, provided you have $1.885 million and you don't mind living in Studio City, California. This is the first time the house has been on the market in 45 years; the previous owners bought it in 1973 for (wait for it) $61,000.
Putting aside our feelings about housing market inflation, this house is seriously far out. While The Brady Bunch only used outside shots (the indoor scenes were shot in studios), the interior still has a ton of rad '70s touches, like wood-paneled walls and a stone fireplace.
There's also this dining set that has been in my grandma's kitchen for my entire life. TBH, probably every grandma's kitchen.
The house is very '70s (as it should be), but it also has had some updates. For example, look at this gorgeous kitchen.
Other parts, though, have not been updated. Doesn't matter, I'm calling dibs on this bedroom anyway. Please, whoever buys this home, don't change a thing in here.
Unfortunately, since none of the interior was used on the show, the iconic Brady Bunch staircase isn't in this house.
It also only has two bedrooms, so you're not going to be able to fit your own Brady Bunch in here, unless you want to go full creepy and let your two opposite sex teen step-siblings share the attic.
The house is (obviously) getting a ton of attention, and the realtor told The Hollywood Reporter that it's getting 30 to 50 visitors a day. But most of those people are just looking, and not serious buyers. That could be bad news for the Brady Bunch house, because Deadline reports there's a lot of interest from developers who want to tear the house down.
So someone needs to step up and buy this beauty, because our nostalgic hearts will break if the Brady Bunch house disappears. With all the attention it's getting, we're sure it's just a matter of time.