All Six 'Brady Bunch' Kids Are Starring On A Show About Renovating Their TV House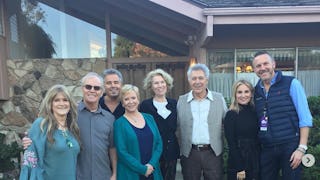 Image via Maureen McCormick / Instagram
The Brady Bunch house is getting a major facelift, and all six Brady kids are here to help
Even though the Brady Bunch house in Studio City, California, is completely iconic, most of the stars of the show had never seen it until recently. The house itself was only used for exterior shots on the show, and the interior shots were filmed on a sound stage in Hollywood. The interior of the house doesn't even look anything like the Brady house we all know and love, as we learned when it went on the market earlier this year.
All of that is about to change. HGTV apparently bought the house, and is filming a new show there called A Very Brady Renovation. In it, famous designers (including Jonathan and Drew Scott, the Property Brothers) will renovate the Brady house to make its interior look like it did on the show. Oh, and all six of the Brady kids will be on hand to oversee the project.
I mean, did HGTV just take a little peek into my brain and build my ideal show? This is bananas.
To start building hype, as if that's necessary, HGTV released a teaser video that shows the six former child stars of The Brady Bunch, Barry Williams (Greg), Maureen McCormick (Marcia), Christopher Knight (Peter), Eve Plumb (Jan), Mike Lookinland (Bobby) and Susan Olsen (Cindy), arriving at the house, several of them for the first time.
Not only is it amazing to see them all together and discovering this piece of nostalgia from their careers for the first time, but this is also clearly their first reunion in a hot minute. They all get a little emotional greeting each other, and I think I need a moment to get this dust outta my eyes.
After meeting on the front lawn, they tour the house, commenting on how it looks nothing like the stages where they shot the show.
"Going into the house is odd," Williams says. "We expect to come through the door and see things that are familiar. And this isn't familiar, yet."
https://www.instagram.com/p/BpuiL6sly9s/
Renovating the home will be no small feat. Making the inside look like the Brady house requires building an addition and digging into the ground to add a second floor without transforming the roof line. But if anyone is up for it, it's HGTV's team of designers, which includes the Scott brothers, Good Bones' Mina Starsiak and Karen E. Laine, Flea Market Flip's Lara Spencer, Restored by the Fords' Leanne and Steve Ford and Hidden Potential's Jasmine Roth. And the Brady kids will be there every step of the way to make sure everything looks just right.
A Very Brady Renovation won't premiere until next year, but we'll just be over here bingeing The Brady Bunch and counting the seconds.