Brain-Eating Amoeba That Killed 6-Year-Old Found In Texas City's Drinking Water
by Julie Scagell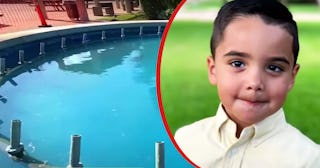 ABC News/Youtube
A six-year-old boy died from the water earlier this month
A deadly brain-eating amoeba was detected in a Texas city's water supply and has caused the death of a six-year-old boy this month.
Gov. Greg Abbott declared a state of disaster in Lake Jackson, Texas located about 56 miles south of Houston after Naegleria fowleri was found in their water system. Residents have been told to boil all water before using it and on Sunday declared a state of emergency for nearby Brazoria County, telling residents not to use the water at all. Lake Jackson is now the only county that remains under warning.
Abbott said three of 11 water tests in the county found the amoeba, "posing an imminent threat to public health and safety, including loss of life."
Earlier this month, six-year-old Josiah McIntyre died after contracting the microbe. "He was an active little boy," Josiah's mother, Maria Castillo, told KTRK-TV. "He was a really good big brother. He just loved and cared about a lot of people." He died Sept. 8th after fighting an infection called primary amebic meningoencephalitis. McIntyre played at the civic center splash pad in late August before falling ill.
"I'm angry and upset and sad and heartbroken," Castillo said. "It really means a lot to me because we want to know as a family for peace of mind. I know it doesn't bring him back. The fact that we know how he got it, how he contracted it, gives us peace of mind."
The Texas Commission on Environmental Quality said it was alerted Friday to the presence of N. fowleri in the Brazosport Water Authority supply. In addition to boiling all water, the Commission also advised not letting any water to go up their nose or even sniffing the water while bathing and showering, USA Today reported.
The organism is typically found in warm freshwater lakes and rivers, and it enters the body through the nose, according to the Centers for Disease Control and Prevention. It travels up the nose to the brain, destroying brain tissue. People cannot be infected by drinking water containing the amoeba, according to the CDC.
Authorities "are actively working on a plan to flush and disinfect the water system," but it was unknown how long that will take, the Texas Commission on Environmental Quality said. The agency said it was working with city officials "on a plan to flush and disinfect the water system."