Welcome To This Online Grocery Store Where Everything Is $3 Or Less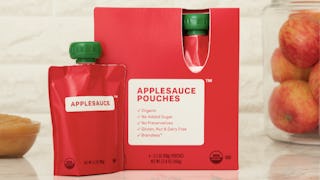 Image via Brandless
You can now buy affordable family groceries while pants-less on the couch
Who among us isn't a die-hard fan of places like Aldi's and Trader Joe's to buy our family groceries? These stores sell private label goods to the consumer directly from the supplier, which is why these stores are budget-friendly and don't overwhelm you with 500 options for salad dressing alone. What could be better than that, you ask?
Well, meet Brandless. It's similar in every way, except it's online. Which means we can now buy our organic fair trade family snacks sans bra. Sans pants. Sans…whatever. Because we don't have to leave the house to do it. The best part? Everything in the entire store is $3 or less. Huzzah!
Brandless' business model is based on finding high-quality items and healthy ingredients that don't cost families an arm and a leg. Most of their products are non-GMO, organic, fair trade, kosher, gluten free, and contain no added sugar. This means you can now purchase guilt-free family food and snacks stress-free. No car seats, no complaints, no toddlers whining in the cart, no grocery lists left at the house. Surviving a grocery store with kids in tow isn't for the weak-hearted, and this site pretty much takes care of that.
Healthy fruit pouches as a quick-fix for your hungry baby? Done.
Looking for 10 ounces of organic coconut oil that doesn't come with a double-digit price tag? Boom.
We honestly can't think of a situation where these cookies aren't a great idea– for kids and adults alike.
There isn't a parent alive who doesn't stock their pantry up with these babies, and you get two of 'em for three bucks.
Taco Tuesday? Taco Everyday? Done and done.
They sell a variety of Nectar Of The Gods–er, uh, coffee–in both K-cup form and traditional grounds. For three dollars.
The clean, seamless simplicity of Brandless is the result of Tina Sharkey and Ido Leffler, Silicon Valley vets who founded the company in 2015. They've spent the last two years working directly with manufacturers to reduce waste and promote simplicity. The site claims to be "BrandTax-Free", which means they eliminate hidden costs and markups associated with national brand names. Which basically means they've turned the concept of "generic" items into something sleek and desirable. Shipping is a $9 flat rate, with free shipping for orders over $72. You can also sign up to become a member for just $36 per year, which means shipping is free for orders over $48.
Brandless has also partnered with Feeding America, a domestic hunger relief organization, to donate one meal for every order placed. So basically this online grocery store is what dreams are made of.
Aside from plenty of healthy options for snacks, pasta, sauce, and canned goods, the site also offers house cleaning products, beauty items, as well as super affordable dinnerware and kitchen utensils. Basically you can buy items to cook and serve your meals without breaking the bank or leaving your couch.
Sign. Us. Up.