Brandy's 'Cinderella' Is Coming To Disney+ To Soothe Our Nostalgic Hearts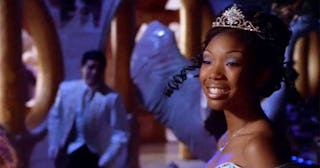 Walt Disney Home Entertainment
Brandy reveals that Rodgers & Hammerstein's Cinderella aka the best Cinderella is coming to Disney Plus this month
Once upon a time, ABC aired a little musical ditty that every millennial has henceforth referred to as "Brandy's Cinderella." You thought Hamilton and Bridgerton were ground-breaking for their diverse and multi-cultural worlds? HA! Back in 1997, ABC re-launched "The Wonderful World of Disney" (remember that?) with a re-imagining of Rodgers & Hammerstein's Cinderella musical starring Brandy as Cinderella, Whitney Houston as the fairy godmother, Paolo Montalban as the Prince, and Victor Garber and Whoopi Goldberg as the Prince's parents. Now, wistful '90s kids don't have to buy DVDs or find VHS players to watch the iconic TV musical, because you can now watch the best Cinderella on Disney Plus later this month.
Brandy announced the news herself on The View on Thursday, February 4, 2021 where she was reunited with her Cinderella co-star Goldberg. Brandy said she was so excited that Cinderella would find a new home on Disney Plus after 24 long years. "We can celebrate and share and inspire a whole new generation to see this wonderful piece," Brandy said.
Until now, if you wanted to watch this movie, you needed to own a VHS or DVD copy, so the fact that this very good made-for-TV musical is now available to stream is **chef's kiss**.
The movie was so impactful to an entire generation of viewers, I mean, there are Buzzfeed articles citing why it's the only Cinderella version most millennials recognize. Apparently, there's a really good Disney animated version of Cinderella that came out in 1950? Haven't seen it. I like my Cinderellas starring Brandy and made-for-TV, thank you very much.
Songs like "Impossible" will forever be etched in my brain, thanks to this performance by Houston and Brandy.
And of course, Broadway legend Bernadette Peters as Cinderella's evil stepmother is superb casting.
The internet is already weighing in with their very-delighted takes on this news.
"Yes, Cinderella is absolutely iconic because of Brandy and Whitney — but Paolo Montalbán was one of the first times I saw a Filipino person on screen. Huge," one Twitter user writes.
"The unmitigated joy surrounding soon-to-be access to the Brandy/Whitney Cinderella is beautiful to see in this the year of our lord 2021," writes another.
"The Brandy/Whitney Cinderella is everything that the reboot live action Disney movies from the past 5 years want to be," wrote someone else, and honestly, this is a hot, and accurate, take.
"There truly is no other version of Cinderella that matters but the one with Whitney & Brandy," writes Broadway Black.
Rodgers & Hammerstein's Cinderella will land on Disney Plus on February 12, 2021.
This article was originally published on