Brazilian Official Who Was With Trump Days Ago Tests Positive For Coronavirus
by Leah Groth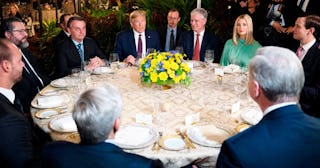 JIM WATSON/Getty
Donald Trump recently hosted Brazilian official Fabio Wajngarten at Mar-a-Lago, who has since tested positive for coronavirus
Over the weekend President Donald Trump had dinner with Brazilian president Jair Bolsonaro at Mar-a-Lago in Florida. According to reports, Brazlian Press Secretary, Fabio Wajngarten, who was in attendance for the visit to Mar-a-Lago, has since tested positive for coronavirus. He shard a photo standing next to Trump that night, which means the commander-in-chief may have been exposed to the highly infectious respiratory disease, that has infected 127,000-plus individuals globally as of Thursday.
According to The New York Times, Wajngarten was part of the delegation accompanying Bolsonaro. He posted an Instagram image of himself posing with Trump, Vice President Mike Pence, leader of the White House's coronavirus task force, Brazilian entrepreneur Alvaro Garnero, and a bunch of "Make Brazil Great Again" hats. While it isn't clear when exactly the photo was taken, the Brazilian official posted it on Sunday.
Despite the fact that coronavirus is contagious and especially concerning for seniors, Trump said he's "not concerned."
"I did hear something about that," Trump told reporters Thursday, when he was asked about the encounter. "We had dinner together in Florida at Mar-a-Lago with the entire delegation. I don't know, if the press [said he was there, then] he was there."
He then attempted to change the subject, mentioning Bolsonaro.
"But we did nothing very unusual," he continued. "We sat next to each other for a period of time, had a great conversation. He's doing a terrific job in Brazil, and we'll find out what happens. I guess they're being tested right now?" Trump said.
According to reports, Bolsonaro was present at Mar-a-Lago days earlier.
When reports continued to press the President, he added: "Let's put it this way, I'm not concerned."
This isn't President Trump's first potential encounter with an individual who has been exposed to coronavirus. He has recently interacted with a few people — including Rep. Doug Collins and Rep. Matt Gaetz, R-Fla. — who both opted to self-quarantine due to possible exposure.
On Wednesday, Trump announced a travel ban from 26 European countries effective Friday, the day after the World Health Organization declared coronavirus a pandemic. So far, U.S. cases have surpassed 1,200, and nearly three dozen people have died in the U.S. Globally, more than 125,000 cases have been confirmed with nearly 5,000 deaths.
"We are at a critical time in the fight against the virus," Trump said in his address from the Oval Office. "We made a lifesaving move with early action on China. Now we must take the same action with Europe. I will never hesitate to take any steps to protect the lives, health and safety of the American people. I will always put the wellbeing of America first."